EDIT MODE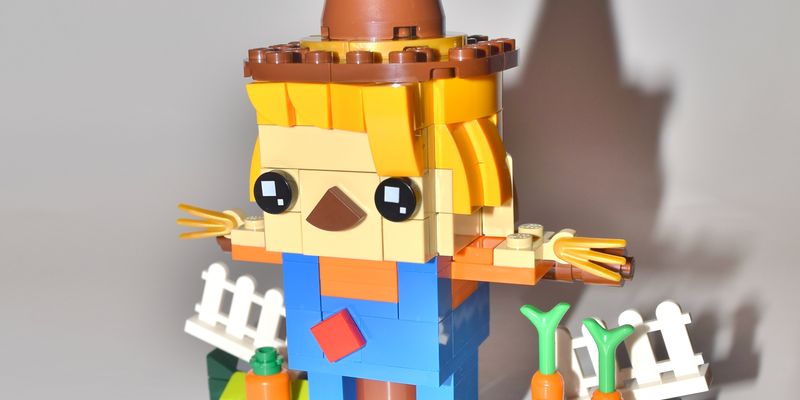 I have built exactly 2 Brickheadz before this set. I have last years Christmas ones that I got cheap in January but saved til this Christmas, and the Back to the Future ones waiting to be built. The two I built are Homer Simpson and Krusty the Clown. I was surprised to find them really good builds. They had nice little secrets, and really good techniques. Unforunately I was late to the Brickheadz game, The Simpsons double pack were the last licensed ones released before the themes slowdown. In 2019 we have only had seasonal releases and some promotional ones. I liked the offerings but it wasn't until the Ghost and Scarecrow that I saw some I would actually buy. I'm luckily enough to have gotten a Scarecrow from LEGO to review, the Ghost is all for me!
Contents:
Background
Brickheadz theme is like the annoying stepchild of LEGO. They went full force into the theme, and in the process split LEGO fans opinion. They are truly the marmite (Vegemite for Nathan's sake) of LEGO. I was fimly in the 'what-a-waste-of-LEGO' camp until I actually built one. After a couple of years the theme seemed to lose pace and LEGO quietly let it go away. Brickheadz could be found cheap everywhere, including LEGO themselves (I picked up the Back to the Future double pack for $10 from a LEGO store). But just like a stepchild, you can send him to his other family but he'll still pop up during major holidays!
This year we have or will be celebrating Your Birthday, Chinese New Year, Valentines Day, Easter, July 4th, Halloween, Thanksgiving, and Christmas with Brickheadz.
Then, seemingly out of nowhere, word of Brickheadz return in 2020 started hitting the rumour mill, confirmed when Lead Designer Marcos Bessa announced their return at the LEGO Fan Media Days back in May. There's already leaks of some seasonal ones out there. Who knows what else we'll get, more Disney including Star Wars and Marvel, probably, more Simpsons, hopefully, Trolls with actual furry hair? probably not. But whatever they do give us, fans and critics will have plenty to say I'm sure.
For a comprehensive history of the Brickheadz theme see Simons review here.
Thanksgiving
Thanksgiving does have several sets devoted to it, but obviously due to the limited audience Thanksgiving has it has limited the number of sets. Halloween and Christmas vastly out number it. The last few years has seen LEGO consistenly release a Thanksgiving set. Some of my favourite include:
2014: 40091-1 Turkey. A brick built Turkey, all 2014 seasonal sets were models like this. The Halloween Bat is especially great.
2015: 40123-1 Thanksgiving Feast. This was designed to be compatible with other other Seasonal sets that year.
2017: 40261-1 Thanksgiving Harvest. A nice little set to expand and Thanksgiving diorama you may have, The micro-scale Turkeys are brilliant.
The Set
Give thanks for another plentiful harvest by building this charming LEGO® Brickheadz™ 40352 Thanksgiving Scarecrow and countryside scene with buildable carrots and picket fence elements. Makes a fun Thanksgiving display or gift for LEGO fans.
The Box
The box measures 350 x 375 x 89 mm. Inside are 4 bags unnumbered, and instructions.
The Instructions
The instructions measures 195 x 260 mm. With 175 pages and 217 building steps.
The instructions were not available from LEGO at the time of writting this review. You can find them on third party sites though.
The Parts
The set contains 177 parts and 15 spare parts, in 19 different colors, and 14 different categories, with a total of 69 unique parts/color combinations.
There are no new or rare parts in this set.
Main colors are:
Main categories are:
The Build
We begin building the Torso. Like other Brickheadz, it's solid. The arms stick out, it is a scarecrow after all, and uses claws to look like hay, which are very convincing. Then we being the standard Brickheadz head. Again, this is just like other Brickheadz and doesn't start getting interesting until you put on the 'skin'.
Alot of Bright Light Orange is used to create the scruffy hair which is topped with an authentic looking scarecrow hat minus the floppy-ness.
This years seasonal Brickheadz has given us more than a simple figure. They all have an extended base with festive decorations, this helps it become more of a stand alone display piece, however this probably annoys collectors who like to display several Brickheadz next to each other.
This Thanksgiving base creates the field for the Scarecrow, with vegetables and a picket fence.
Conclusion
Whilst I liked building this set, and I do think it looks cool, I don't see the Thanksgiving connection. Harvest, yes, Autumn, yes, Thanksgiving, no. I see LEGO's issue though, what are their other choices? We've already had a Turkey. Maybe a pilgrim, we've had them before, but pilgrims probably go against LEGO's stance on religious iconography.
So I liked the set on the whole, but it's not going to become part of my Thanksgiving decorations the same way my Christmas LEGO has.
Happy Thanksgiving to our US readers.
Build on,
Jared Hinton
Disclaimer: This LEGO set was kindly provided for review by The LEGO Group. Anything said in this post is the opinion of the author and not The LEGO Group.
Parts- and build photographs by Jared Hinton (© 2019 Rebrickable)