EDIT MODE
LEGO is trying to get a better foothold in China and the Asian market in general. That brings us this beatiful, colorful set. Let's dive in.
Contents:
Introduction
Chinese New Year is the Chinese festival that celebrates the beginning of a new year on the traditional Chinese calendar. It's also known as the Spring Festival. The first day of Chinese New Year begins on the new moon that appears between 21 January and 20 February. In 2020 this was January 25th, starting the Year of the Rat. Normally, the Chinese calander doesn't count up, but cycles through 12 animals.
There are many traditions surrounding the celebration, depending on location. The list is so long, it's no use mentioning them all here. In my small home country The Netherlands, you get different customs, traditions and variations in dialect ever 25 km. Then realize China is 9,597,000 square km. For an overview, see for instance this Wikipedia article.
TLG is trying to get a better foothold in China. These efforts include a series of sets depicting Chinese tradition, starting in 2019. The first 2 were 80101-1 - Chinese New Year's Eve Dinner and 80102-1 - Dragon Dance. Later in the year came 80103-1 - Dragon Boat Race. This year (in China December 26th of last year), came 2 new sets: 80104-1 - Lion Dance and 80105-1 - Chinese New Year Temple Fair. We'll be looking at the last one today. After a lot of backlash over the first 2 sets only being released in China, TLG decided to make worldwide release for the other sets.
The Temple Fair, also known as Miaohui,is a tradtion taking place around the Chinese New Year. Again, a lot of traditions are involved. Check Wikipedia on the subject to learn more. I'll try to mention every tradition going on in the set, but remember I'm a pale white Dutch guy...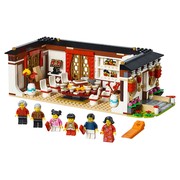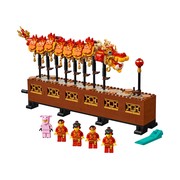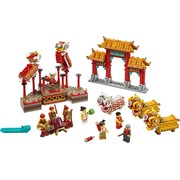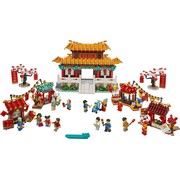 The Set
Recreate the decorative splendor and festive celebrations of a Chinese New Year Temple Fair with this unique LEGO® toy building set (80105). A wonderful Chinese New Year gift for kids who can enjoy building and playing with the models solo or sharing the fun with family and friends. Spectacular display, unlimited play! With a gorgeously decorated Chinese temple, stalls displaying a vast, colorful array of LEGO barbecue dishes, candy, toys, vases and dough figurines, plus 13 minifigures and a baby figure, there is so much to inspire imaginative role-play. Authentic elements such as the 'Fu' decorations, 'best wishes' scrolls, red envelopes and 'paper' windmills teach kids about traditions. And they will love the rocket firework element and staging a shadow-theater performance! Celebrate Chinese culture! Collectible LEGO Chinese cultural toy models make super centerpieces and offer a variety of immersive building challenges and fun, creative play for anyone interested in Chinesetraditions.
The Box
The box measures 47,6 x 37,3 x 6,5 cm, and weighs 1640 grams. Inside are 10 bags numbered 1 through 9, and a foil pack with 3 instruction manuals. No sticker sheet!

The Instructions
There are 3 instruction manuals.
Book 1 measures 19,5 x 12,5 cm, has 103 pages, and builds bags 1 in 70 steps, and bag 2 in 44 steps.
Book 2 measures 27,0 x 19,3 cm, has 123 pages, and builds bag 3 through 7 in 184 steps.
Book 3 measures 19,5 x 12,5 cm, has 90 pages, and builds bag 8 in 62 steps, and bag 9 in 45 steps.


The pdf can be downloaded here.
The Parts
The set contains 1664 parts and 69 spares, in 44 colors, and 36 part categories, with a total of 409 unique parts/color combinations.
Main colors are:
Main categories are:
There are no new molds in this set. That is the shortest part of the list. There are loads of parts in new colors, parts in rare colors and new prints.
Parts in new color:


New prints:


These parts are rare in their color, meaning they appear in 3 or less sets:


There are a whopping 14 minifigures in this set! And still, with 22 new prints, I'm a bit disappointed. I would have loved to expand my baby collection, but the baby has no new print.

The Build
Bag 1 begins with a traditional Wishing Tree and a stall selling traditional foods. In the tree, wishes are hung for the new year. The large banner says 'Happy New Year/Many Happiness in the New Year', the smaller tile says 'Happiness and Fortune'. The roofing technique is interesting, and gives a great effect. The food seems to be soft steamed buns (the white bowls) (in Dutch called broodje bapao), skewers of meat and vegetables, cookies and fried chicken. The red sticks are hawthorn candy.
Bag 2 builds a second stall with balloons, decorated fans and toys. Also a line with decorations between the 2 stalls is added. The sign says 'Happiness and Fortune', the same as in the tree.
Tip: to make sure the line doesn't get twisted during build, secure it on a plate before attaching the decorations.
Bags 3 through 7 build the main temple. I have to be honest: the end result looks great, but it's a tedious job to build. It starts with the shrubberies in front of the temple. A bit repetitious.


The rest of the temple is a better build. Some nice SNOT techniques to obtain great details.

But then comes the roof... Here, a lot of repetition is going on. Concluded with 78x 49307 - Plate 1 x 1 x 2/3 Double Curved Top, No Studs that need to be on straight. At this point I had to keep my eye on the end result to keep going. Yes, I'm a bit lazy maybe. The fact that my ususal build area was taking and I had to sit in a crappy chair in an akward position through the whole build will also play a role.


All was worth it once the temple is finished. The sign on top says 'New Year Temple Fair'.

Bag 8 builds the same tree as bag 1, and another food stall. This stall contains pottery work like vases and porcelain dolls.

Bag 9 builds a shadow puppet theater, along with some fireworks. Also another decorative line is added between the stalls. The sign on the left says 'Peace is Announced'(not sure about the translation), on the right says 'When Flowers Bloom, Prosperity Follows' (again, not sure). The red diamond tile says 'Happiness'

Conclusion

And then the verdict. In short: Love it. This is a amazingly designed, colorful set. To be honest, I'm not sure if all the colors work because it's so close to the real thing, or that I only recognize it as being Chinese because of stereotypes, but in my ignorant eyes this seems to breath China. Yes, some parts are a pain to work through, but the end result is worth it.
There are some minor things. I've already mentioned the repetitious state of some steps. This also seems to be a set meant for displaying. The stalls have a lot of loose items, and others are not secured very firmly. I also re-attached the shrubberies in front of the temple multiple times. So not really play-friendly.
I'm surprised by the price of the set: €100,- for 1664 parts. That comes down to just 6 cent per part. Count in the many recolors and new prints, and it's really cheap. Part of the effort to reach the Chinese market?
So in short: Sometimes a pain to build, great end result, and cheap for its size.
Disclaimer: This LEGO set was kindly provided for review by The LEGO Group. Anything said in this post is the opinion of the author and not The LEGO Group.
Parts- and build photographs by Tobymac (© 2020 Rebrickable)