Lego Docking Bay 327 for UCS Falcon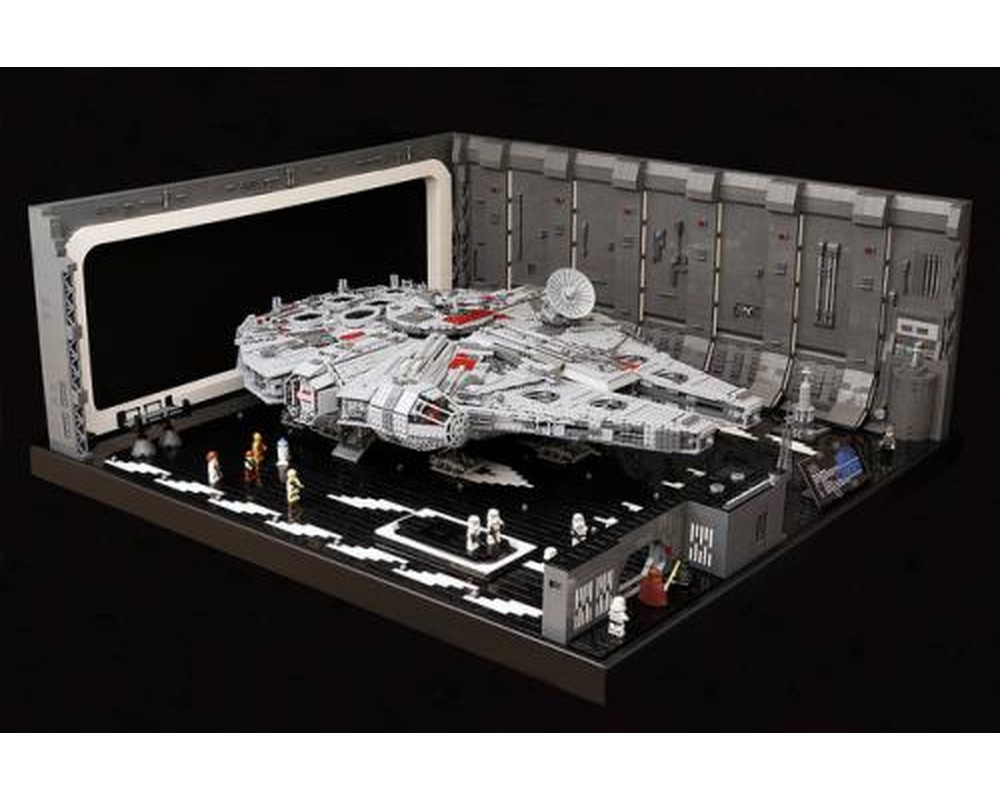 Lego Death Star Docking Bay 327 Hanger MOC for minifig scale UCS Falcon. The goal was to build a high quality set while keeping part count (i.e. cost) down as much as possible.
Acknowledgements:
- I used photos from Dave's awesome scratch built Docking Bay 327 as inspiration for my design. His set has 10.5k parts with a working elevator. I wanted to keep the cost down, so my version has a static elevator and unfinished back wall from behind with a total of 7,780 parts. Pictures of Dave's set can be found at his
MOC Page.
- 3D Renderings were done using
LDD2POVRay
- UCS Falcon LDD model used for test renderings is by Dan Jansen and available for download at
Eurobricks
- Parts list was created using
LDD Manager
Model Files:
- The LDD model files for both versions of the Lego DB327 (Gate inside radius with arch or slopes) with Brick Link parts lists is available for
download
Note: The sloped version parts list is loaded into Rebrickable as default. The model file only includes the Docking Bay 327 and portable scaffold.
Pictures:
Final LDD render. I made a few minor substitutions for parts that were not in LDD (i.e. antenna on roof of the support building)
Higher Resolution
Finished Docking Bay 327. I made some small changes to the elevator in later pictures:
Higher Resolution
Finished Docking Bay 327 with the Falcon
Higher Resolution
Finished Docking Bay 327 with the Falcon:
Higher Resolution
Higher Resolution
"Blast the door kid!":
Higher Resolution
Already have some of the parts? Use the
Build this MOC
page to only show the parts you are missing.
Waiting for Inventory to load