EAS Schwarzkopf from Babylon 5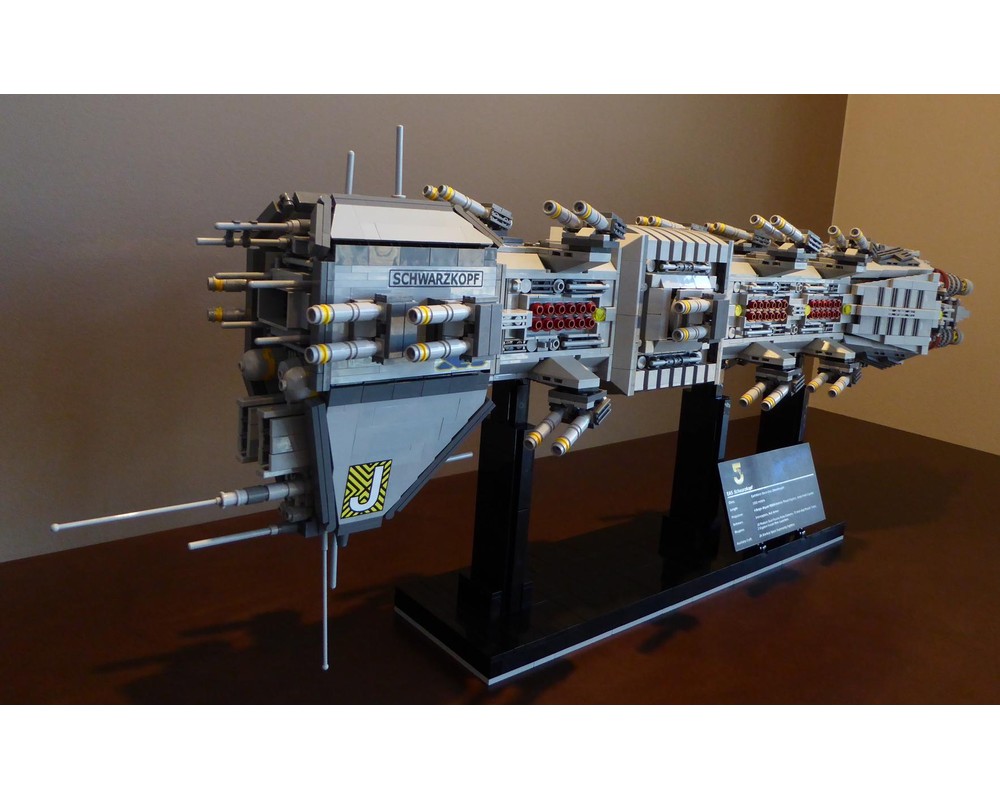 Shortly after building the
Agamemnon
,  I realized I was 75% of the way to a design for the Nova class  dreadnought EAS Schwarzkopff (named after good ol' Stormin' Norman!).
The main pic is a render from the LDD file (done in BlueRender), but here's some stickered-up as-built ones:


More pics in
my Flickr album
.
I took the base model and evolved it through a few versions (build
thread on Eurobricks
), before settling on this final one.
The engine section is basically identical to the Agamemnon, with the addition of some colourful stickered yellow parts. Note that the LDD file uses some different parts at the end of the 4 engines (wheels with axle holes not pins, only 1 2x2 round each not 2, no axle pins) but the parts list has been updated to line up better with the way I built it.
The head and frame are mostly the same, with the obvious exception of the guns. The midsection is obviously totally new (and a pain to assemble!). 
Note that for the 12 LBG Wedge 4 x 4 Triple Inverted parts (#4855), I substituted old light grey parts because LBG ones are stupidly expensive, and most sellers actually only have old light grey anyway (even if they say it's LBG - beware!). You can't really tell the difference, apart from the
slightly
greenish tint.
Stats-wise, version 3 of the Schwarzkopf is about 83x29x16cm. It contains ~3850 parts, about 900 less than the Agamemnon.
LDD files for all three versions plus two word documents with stickers (one for clear-backed sheet, one for a white sheet) are available in
my Bricksafe folder
.
As with the Agamemnon, apologies that there aren't any LDD groups or decent instructions (LDD's generated ones are kinda junk), but using the Hide tool will show you how to put it all together. That's how I built it!
If you build it, have fun! It makes an excellent companion to the Agamemnon. I used to have them displayed side by side, which looked awesome. ;)
Already have some of the parts? Use the
Build this MOC
page to only show the parts you are missing.
Waiting for Inventory to load