Coin Operated Rocket Ride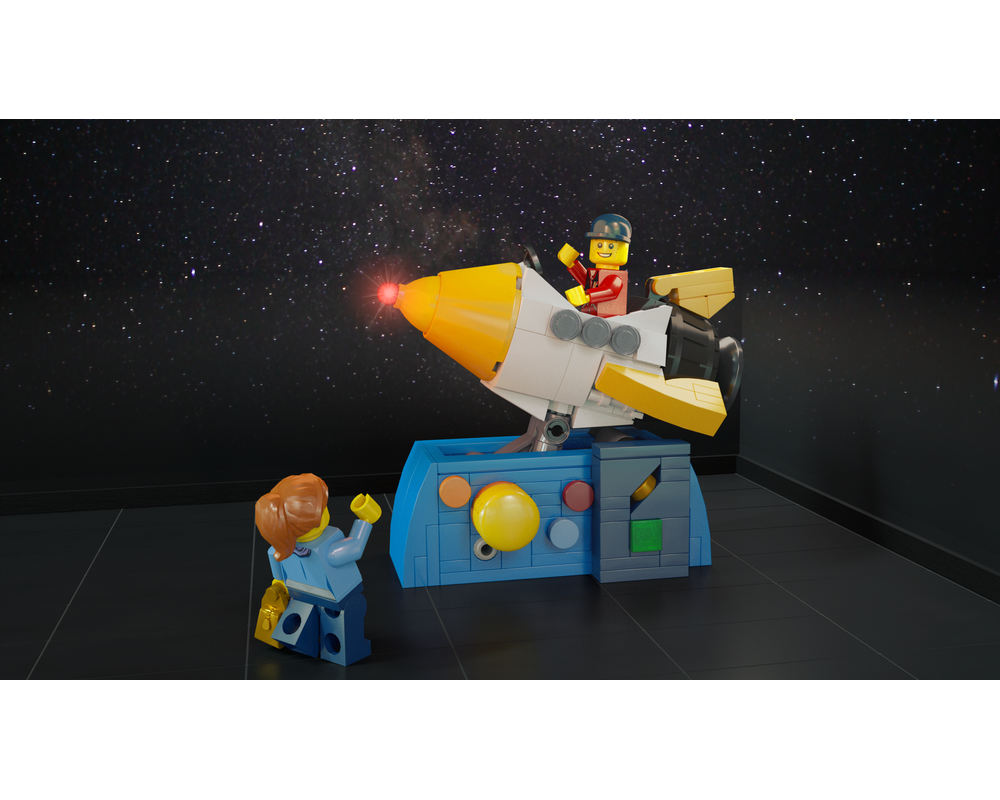 As a kid, I totally loved these things. Who didn't? Bright lights, a bit of motion and 50 cents was all you needed to be transported away. Sadly, that time is behind most of us now I guess. But still, coin operated rides have something magical, and they certainly charmed me all over again when building this creation for the LEGO Ideas "Moments in Space" contest. The aim was to make a small creation that could be turned into an official gift with purchase set. For me, the ideal small set is one with movement, with functions, that you play and fiddle with over and over again. Then a coin operated rocket ride is a winning combination!
The motion was the most important part for me to begin with, so I spend a lot of time designing and tweaking a mechanism that results in a motion that looks somewhat realistic and not too much nausea-inducing... It also had. to be compact enough to keep the creation somewhat minifig scale so it could be incorporated in a diorama. In the end, I found a nice arrangement of a bar linkage that produces a mesmerizing motion. Note that all of the joints are friction pins, so in principle you should be able to display the rocket in any position you like (although I haven't tested it yet) to bring life into your display.

With the motion down, it was time to work on the looks of the model. I did quite a few sketches of different rocket shapes to find a satisfying one, and  think this chubby design looks really fun and child friendly. Getting the chubby curves in was a bit tricky, but the piece that represents the lower half of a balloon was perfect to make the flow of the nose cone better. Of course some bright lights and a steering wheel that does absolutely nothing were required to enhance the fun for the minifig!
I also had a lot of fun with the base. To make the model  fit for display, I couldn't have an ugly crank sticking out, so I disguised it as a sun and surrounded it with all of the planets, front and back. I even found a fun technique to depict Saturn a bit differently. Apart from that, I thought the slanted coin slot was something typical I had to include, and to make it complete, some steps were placed to give at least a little bit of explanation how a minifig could get up there, although it's still a bit out of scale. 

I didn't win the contest, so this set won't be commercialized. However, the winner of the contest was another coin operated rocket ride, so we might soon see something similar as a gift with purchase set. But if you can't wait or want to create a whole fleet of different coin operated rides, feel free to have a crack at my design and tell me how it goes! I hope you have as much fun with this model as that minifig has riding that rocket!
Notes about the inventory:
- no minifig parts are included
- the parts in red are fully hidden in the model, so the choice of color of those is free. In the lxf, they're dark grey
Already have some of the parts? Use the
Build this MOC
page to only show the parts you are missing.
Waiting for Inventory to load