Jedi Temple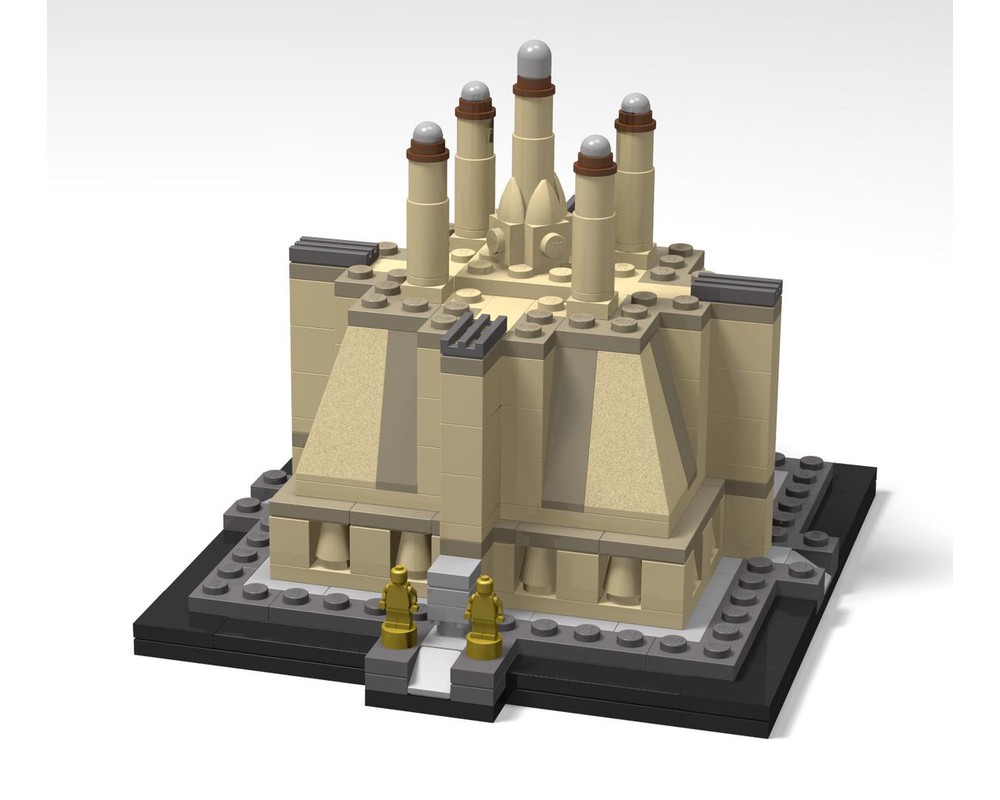 This is the Jedi Temple from Star Wars.
It is my first MOC after rediscovering LEGO as an adult, and is inspired by the LEGO Architecture Sets. 
I've always liked the design of this iconic building in Star Wars and its humble, yet elegant feel, fitting for the Jedi Order.
I wanted to capture the shape as closely as possible, but soon discovered that my scale of choice didn't allow for some details like the double dark stripes on the sloped sides. Likewise, I had to divert a little bit on the protrusions of the main entrances. They stick a bit out instead of being flush with the base footprint. But I felt that the overall shape was a better match to resemble the original building (considering the relation to the brick width). 
One special detail I only added months after the original design was the addition of the stairs, with the formal main entrance featuring both a stylized set of the huge stone pillars of the founding masters, as well as the bronze statues guarding the stairs. 
These details were the finishing touch which also got me to make this model a reality. 
The tower domes are realized as minifig microphones through inverted 1x1 round plates with a hole. The domes were intended in dark gray but had to change to light gray to get the parts. 
The main tower's original design featured an upside-down 1x1 round brick with fins in tan to symbolize to characteristic protrusions from the tower's core. But since that part is not yet available in that color, I stuck with the slim look as the other towers have. 
On the construction:
I utilized many 1x2 and 2x2 jumper bricks to achieve the half-brick step widths. 
One key feature here is the base dimension of 13 by 13 studs to support the 1 brick-width middle entrances, and the slightly narrower pyramid shape. 
Stability is accomplished via multiple rings of overlapping beams and plates at multiple layers. 
Model Info: 
346 pcs, 12 x 13 x 11 cm, 253 gramms
Already have some of the parts? Use the
Build this MOC
page to only show the parts you are missing.
Waiting for Inventory to load