McLaren P1 hypercar 1:8 - manual version only -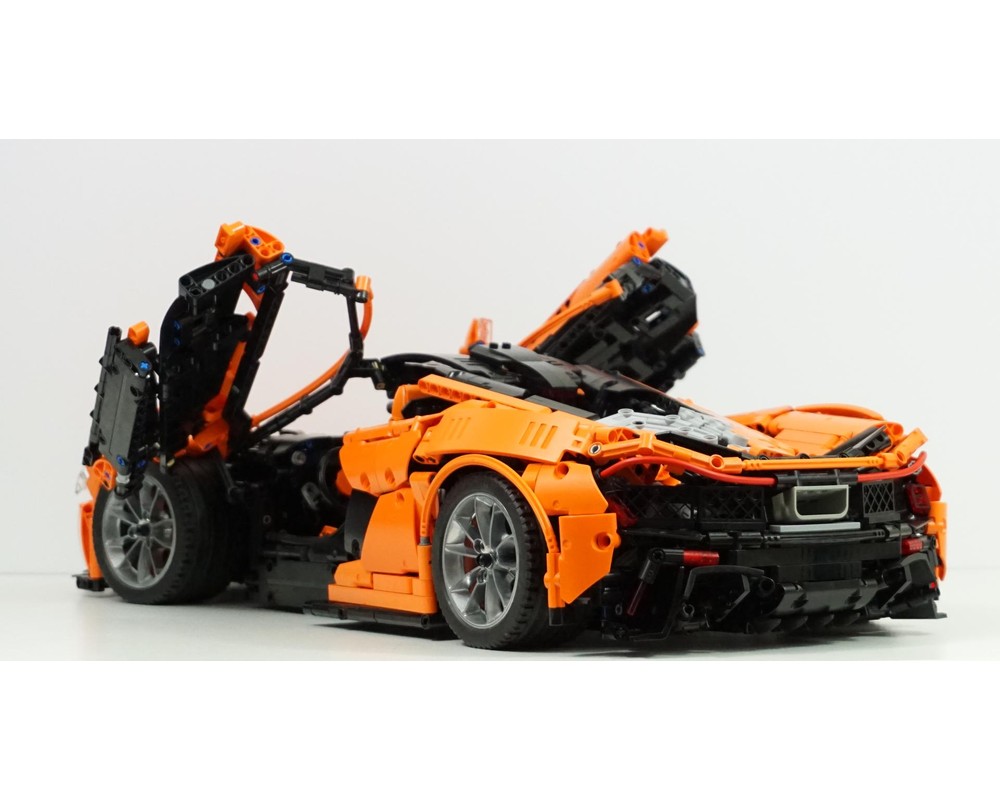 FOLLOWERS
1520
LIKES
1725
Specs:
Length: 73studs (58cm); width: 30 studs (24cm); height: 18 studs (14,5 cm) 
Openable doors, bonnet, removable engine cover 
Parts count: 3.300 pcs.; Technic panels count: 136 pcs. 
Wheels are from set #42056 and painted in silver color
manual chassis:
–                   RWD
–                   front/rear independent suspension
–                   working fake mini V8
–                   steering+ HOG control + working steering wheel + airbrake
–                   adjustable suspension ride
–                   retractable rear spoiler
–                   airbrake activator
–                   butterflydoors operated by handles
–                   7 separate detachable chassis modules
–                   luggage compartment with case
Rear lights alternative: #75c26 red rigid hose
#6797 exhaust alternatives here


Beware of the fake knock-off version!  
Check out my review here!
 



#6797 exhaust alternatives here

Rear lights alternative: 1x #75c26 red rigid hose (cut) 
4 x 6538b black changed qty to 3x, instructions not updated
7 x #3 connectors in orange can be saved without compromising things too much:
- 4 x wheel calipers can be replaced in red, LBG / DBG
- p. 197–1:  1 x can be replaced in LBG
- p. 206/207–2: 2 x can be replaced by #1 connectors
2 x 4459 high friction pins not mandatory
2 x 22961 in brown can be replaced with LBG
2 x 15462 in dark tan can be replaced with reddish brown 
2 x 4274 in blue on windshield wiper can be replaced with LBG
2 x 13L #78c13 ribbed hoses (10-10.5cm) - the right color should be flat silver.
Compare my inventory to #42056 if using the set. Then export 42,7% parts on the left to a wishlist.
Beware of the knock-off version![b] [/b]
Check out my honest review on the fake set
.
RC instructions available too!
Already have some of the parts? Use the
Build this MOC
page to only show the parts you are missing.
Waiting for Inventory to load
Building Instructions For Sale
This is a Premium MOC, and the instructions to build it are being sold by the designer (brunojj1) for €25.00
You will receive building instructions of type PDF - Computer Images from the designer once you have organised payment with them.
Help Guide - BI File Types