8285 Tow Truck Full RC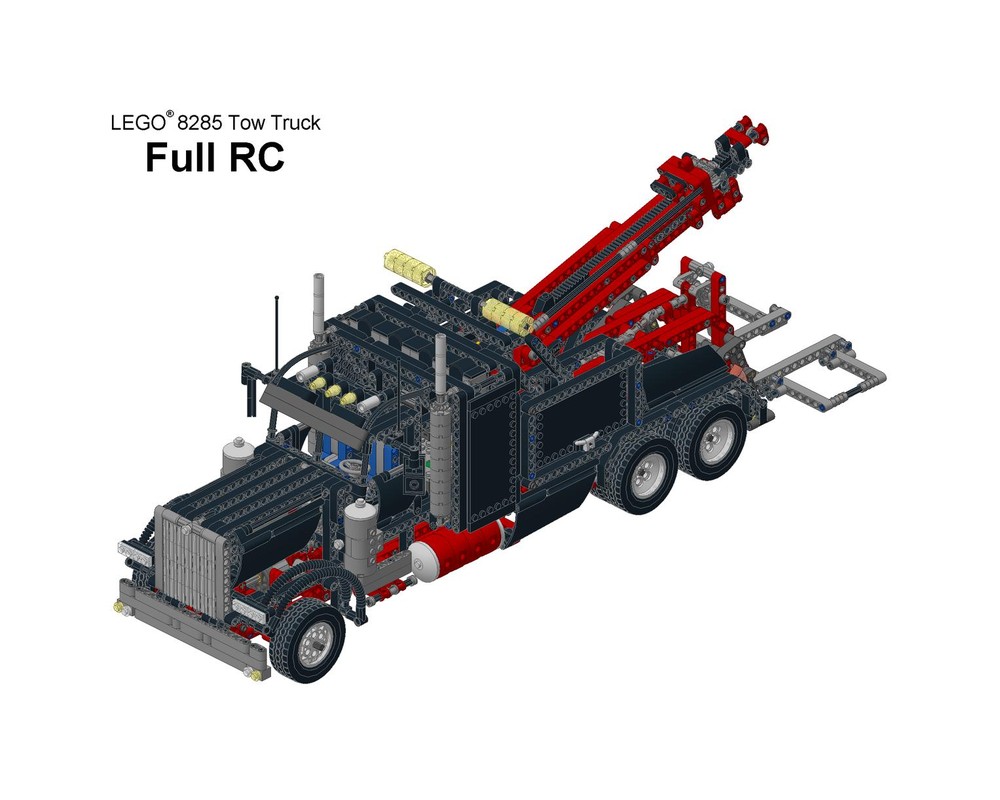 INSTRUCTION UPDATES:
- The Hook and String are missing. I added hints on the resp. pages to add string and hook.
- The part list of steps 29 and 40 did not match the used parts. I corrected it.
- Radiator Fan touched the bushes on the steering. Modified the assembly. (Step 73)
Latest Upload: 29.10.18 - 12:20 (CET)

A while ago I looked for a rc mod of the Tow Truck. And I found the RC Mod of Madsen_1977.
He posted a lxf file here but there were some comments about the model
being nice but not buildable.

I downloaded the lxf and had a look and ... well ... there was room for
improvement.

So I rebuild the original truck in the LDD as madsens lxf coud not be
modified. Then I added the pf elements in the places he had intended.
And made it buildable and created the instructions for it...

I changed the steering, installed two L motors instead of one, switched
the battery, modified the lifting system of the tow frame and many other
things. And after a testbuild modified and reinforced the chassis.

Have fun bilding it. :-)

Some notes to the mod:
As the truck is pretty heavy I strongly recommend to use the train
controller for driving as a normal one will stress the gears of the
drivetrain too much if not killing them instantly... And carpet is no
good underground fot it. ;-)

I also recommend to use a V2 reciever for driving, connect it to one
battery alone and the rest of the recievers to the other.

The battery boxes can be removed through the opening behind the 6 x 12
plates. It is tight but possible.
Already have some of the parts? Use the
Build this MOC
page to only show the parts you are missing.
Waiting for Inventory to load