4882 Sky assegai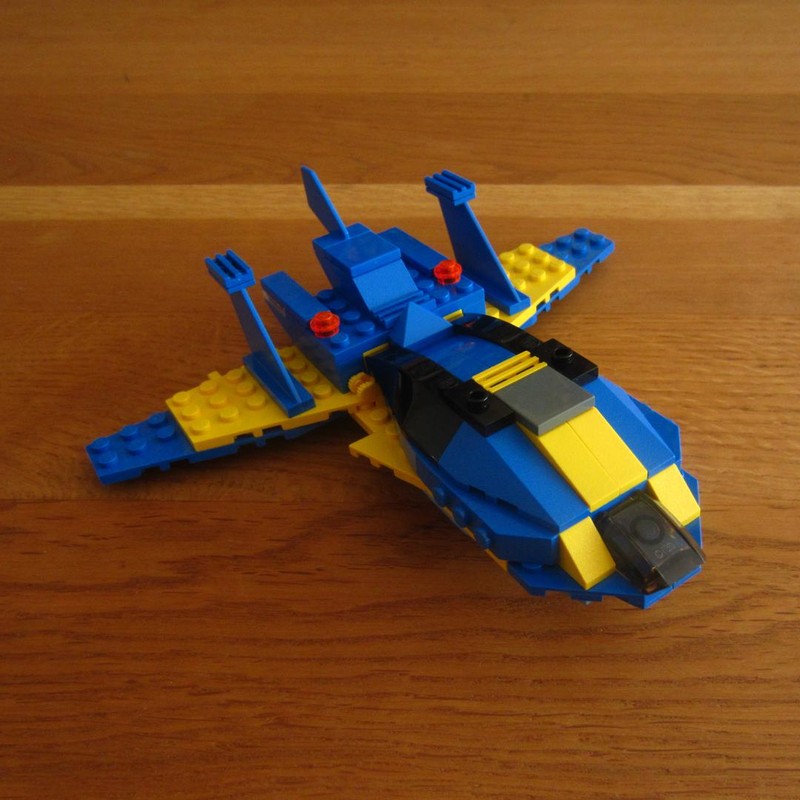 It was not until I looked at the picture I made of the 4882 Sky Warder that the wing setup looked eerily similar to that of the 4098 Sky Assegai. The question was if I could pull it off. It is quite hard to recreate another alternate with a different set as so many parts are different. Nevertheless I wanted to try it. The most distinctive section is the head which has a particular defined shape. I knew I had to approach this very differently as I didn't have the right wing plates to pull it off that nicely. The shape had to be defined by sideways slopes and the wing plates were only there for the final touches. As I made the head section I realized it way devouring all my curved and roof parts. There were few parts left for the back section. I decided to just go ahead because the head was more important for the shape of the model and I could make something up for the back end. And that was what I did. I looked at the few parts remaining and put them in as efficiently as possible. It was not sloped like the 4098 version but the boxy one looked quite fine as well. Just getting the design right wasn't the end of the building process. The colors were rather patchy as I hadn't know what would and would not work so I made guesses on which ones I wanted to keep. I started to take sections apart again to replace them with other plates to make the color scheme less patchy and more consistent. I did that until I was satisfied. Strangely enough it resembles the 4098 version in a similar way with regard to the color scheme: the back section is quite consistent and clean while the head section is patchy. There was not way to improve on that side so I kept it like it is. I am quite satisfied with the result. I did not succeed at improving on the original 4098 version. I still think that one looks better. But this rendition does not fall short much and looks quite good on its own merits.
Already have some of the parts? Use the
Build this MOC
page to only show the parts you are missing.
Waiting for Inventory to load