James Watt's Steam Engine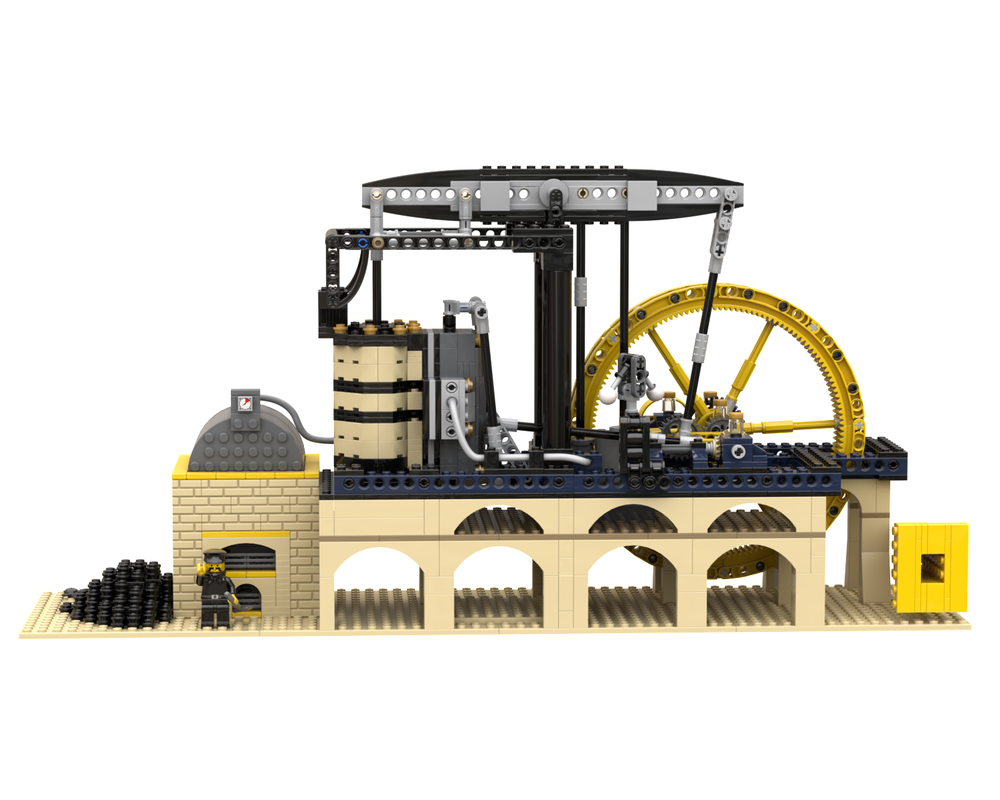 Model by Mr. Kleinstein.
Small modifications and instructions by KaeroDot.
This is a working model of James Watt's steam engine. The model represents a beam engine, with an upright cylinder and a large flywheel. The to-and-fro motion of the piston inside the cylinder is taken up by the large beam, and then converted to a rotary motion by planetary motion gears. To make the piston rod on the end of the rotating beam travel in a completely straight path, a system of levers called Watt's parallelogram is employed. A sliding valve driven from the main crankshaft steers the intake and outlet of steam. The machine also includes a speed governor, an air pump for the steam condenser, and a feed water pump.
The model actually runs on a gentle vacuum, as provided by carefully approaching the steam outlet with the hose of a vacuum cleaner. There are 1152 bricks in this model. The build is quite challenging; the hardest part is adjusting all the parts to move really freely, and then centering the motion of the slide valve. When finished, the rigid frame stabilizes the engine so it can easily be picked up and handled without coming out of adjustment. See video on flickr:
https://www.flickr.com/photos/mr_kleinstein/33736624203/in/shares-K2098F/
The model contains also a fireplace, boiler and a heap of coal. The modeled steam engine would typically use a Cornwall-type boiler, which would be even longer than the machine (at the same scale). The engine frame would be at floor level.
All model files (.io, .ldr, .odt, .pdf) can be downloaded here:
https://www.dropbox.com/sh/owccc09eev0kxg6/AAA5W0qkzNCR-yM4odlq9Zo2a?dl=0
The back side is transparent to see movement of piston and sliding valve:
Some other pictures:
Already have some of the parts? Use the
Build this MOC
page to only show the parts you are missing.
Waiting for Inventory to load