4506 Rabid rooster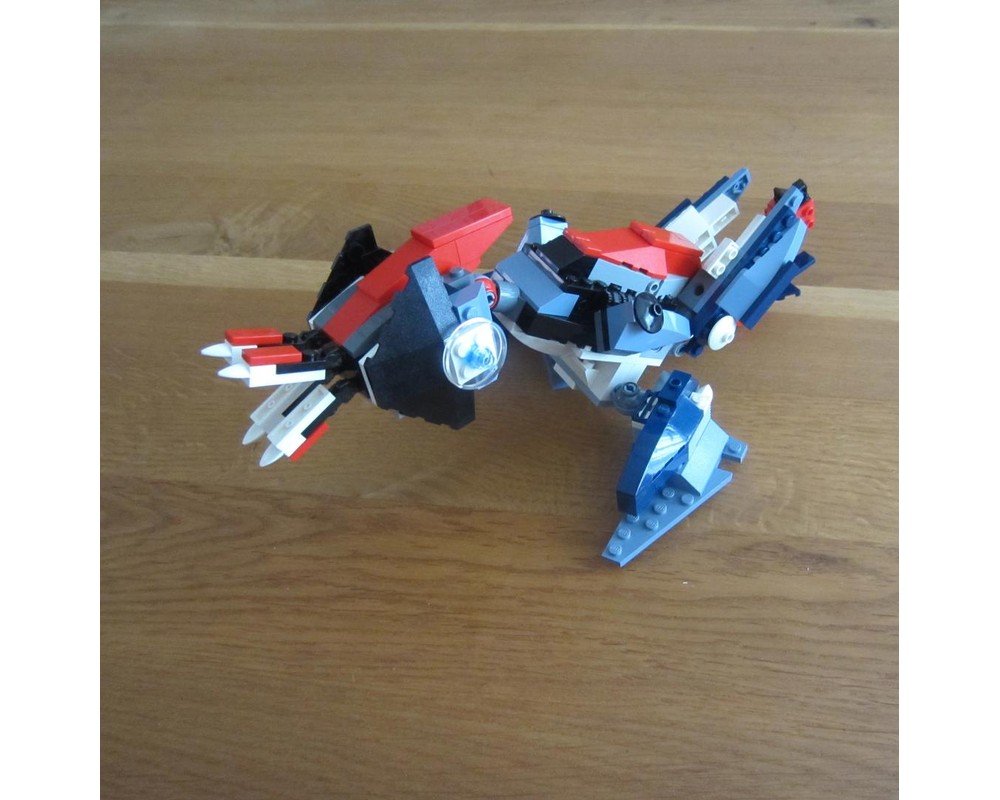 This model has the same origins as the Sea Dragon in which I was playing with shapes and ideas. It shares the same legs and the head of the rooster was, like the Sea Dragon, already made, before I realised I had the heads for two separate models. I decided to work on the Sea Dragon first as I had the design in my head already. For the rooster I did not have a clear approach yet. The beak may seem a little odd but for some reason it works for me. As the head of the rooster uses several key parts of the body of the Sea Dragon I had to rebuild that from the ground up. There was also the feathered tail of the rooster to consider. I was not sure how I was to tackle that issue until I decided to use two of the hinge bricks so that they would be separate. From there it was a short step to the decision to add a third central section for the tail feathers. Before I started working on those I finished the body so that the remaining parts were what I would have available for the tail section. The wings are tiny but they do the job and I like how the red top matched the red top of the head. Following that I did the same for the central tail using the red hinge plates. The large side tails are a bit of a compromise. There was not much freedom to make much of it but I think it looks fine.

I am very pleased with the final model. For a change I managed to maintain a fair color scheme. Red on top, black for the head and upper body, grey color for the lower head and body, with white for the bottom. The outer tails are a nice mix of grey and blue with a bit of white. It is not perfect but of all the major builds this model looks like a genuine alternate, although I did add some quirky elements here and there which you won't find in a real model. The only downside is that despite my efforts to make the back half heavier the model is unable to stand up by itself. I cheated in the picture by adding a leftover slope brick beneath the body so it wouldn't fall over.
Already have some of the parts? Use the
Build this MOC
page to only show the parts you are missing.
Waiting for Inventory to load