SpaceX BFR 2018 (Saturn V scale)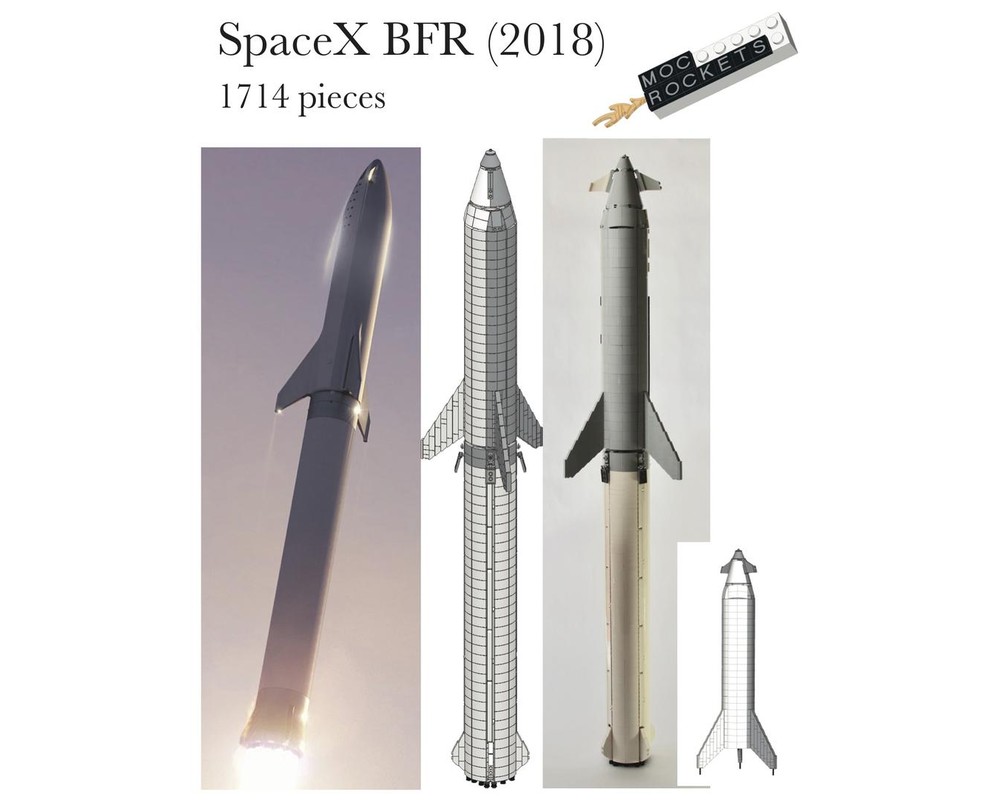 We created MOCrockets in the summer of 2018 specifically because we were inspired by SpaceX and wanted to build its Big Falcon Rocket (BFR) at the same 1:110 scale as the official Lego Saturn V. Our previous MOCs were, in part, learning and practicing for the BFR! There were numerous challenges in the design of the BFR MOC that we had to overcome.
(1) The hexagonal symmetry of the Starship was very difficult. The #27255 parts are extremely tempting because of the triangular sets of 2x2 studs. We tried at least five methods, but the mismatches in height and extent from the triangular arrangement of clips was not resolvable. In this MOC, therefore, we use a different piece to establish the hexagonal shape.
(2) Creating a symmetric 31-engine design on the Super Heavy booster took an entire day of trial and error. The challenge arose primarily because the best aspect ratio of a Raptor engine at 1:110 is, in part, a fez cone piece (#85975), which is notorious difficult to space on a grid. We are pleased with the beautiful arrangement of engines in the Super Heavy booster.
(3) The 9-meter diameter of the BFR corresponds to 10.4 studs at 1:110 scale. While we could have simply copied the 10-stud diameter used in the Saturn V, we designed a 10.5-stud diameter for the entire BFR.
(4) One challenge we could not overcome was the top of the Starship. Instead of smooth contours, we did the best we could with hinges and wedges, similar in concept to the method used for the flared interstage between the S-II and S-IVB stages of the official Lego Saturn V.

One joy in this design was the little legs that pop out of the Starship fins.

There are some similarities between this model and a Lego Ideas submission. However, we completed this model several months before that one was published. Furthermore, the huge piece count discrepancy indicates that the building methods are distinct.

* We used pink to represent parts that can be "Any Color".
* Bricksmith and Rebrickable will not link to part #30350apb005 in dark bluish grey, which is what we use for the grid fins. This is confusing because we ordered ours using Bricklink.
* We thank the creators of LDraw, Bricksmith, LPub for releasing fantastic pieces of software!
Already have some of the parts? Use the
Build this MOC
page to only show the parts you are missing.
Waiting for Inventory to load
Please Log In
Sorry, but you need to be logged in to buy these instructions so that you can download them again at any time.
Login
or quickly signup using the form below.
Help Guide - BI File Types