Claptrap (CL4P-TP)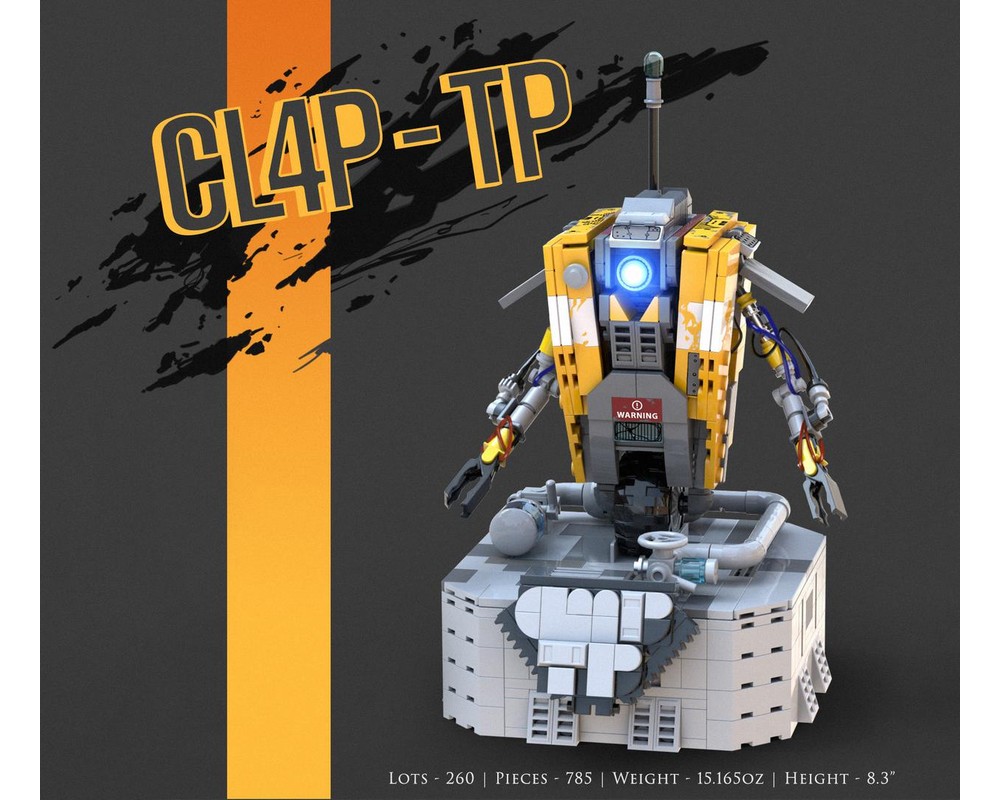 Introducing everyone's favorite Hyperion robot, CL4P-TP! This little robot will keep you company while throwing down some serious beats. If you are feeling a little more adventurous, you can transform Claptrap into the Grand Wizard by donning his wizard hat, wand, and glorious beard. This wise wizard will transport you to another world where handsome dragons and unmotivated golems dwell.
This set comes with these amazing accessories
    Pointy wizard hat
    Magical zappy stick (doesn't actually glow)
    Glorious beard (made from real dwarves!)
    Super sweet base with nameplate
    Sticker sheet for an authentic look
    Handy beard and wand storage compartment (or optional light storage compartment)
    and CL4P-TP
I've been a fan of
Borderlands
for a long time and Claptrap was something that I always wanted to create out of LEGO bricks. I tried to balance aesthetics with stability while also trying to stay true to the original design. He is fairly sturdy; you can pick him up without worrying about him falling apart.
Another goal was to keep the build size a little smaller. Without the base, I think the build is a little over 400 pieces. With the base it's around 788. Just Claptrap is about 346.
You may have noticed that some of the renders don't have flexibe parts, like rubber bands and whips. The program I used didn't have the option for flexible parts (at least the parts I used), but you can see what it really looks like in the photos. I ended up just painting them on in the main image.
There is a storage compartment for the beard and wand inside the base. Unfortunately there wasn't enough room for the hat as well. If that doesn't tickle your fancy, you could use the storage compartment to store a battery pack if you want to add some optional lights. I used a cool white Pico LED light from
Brickstuff
. A blue Pico LED might work better if you want more of a blue glow.
I also added the sticker sheet. I didn't add any bleed to the stickers, so I'm not sure how well it will work.
If you would like to see more photos, please take a look at my
Flickr
account. Thanks!
Already have some of the parts? Use the
Build this MOC
page to only show the parts you are missing.
Waiting for Inventory to load