"6298 Hijacked Martinique"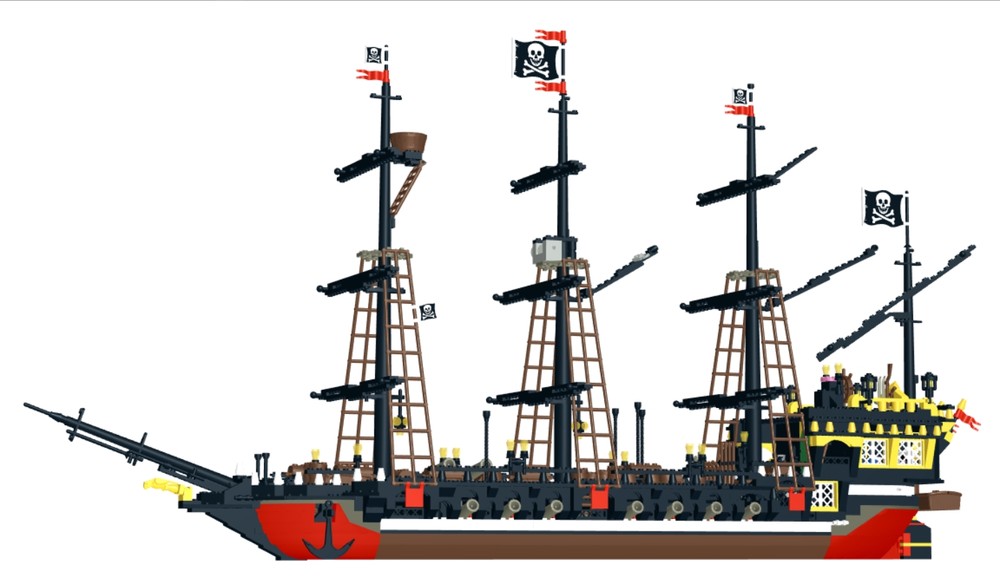 6298 Hijacked Martinique
Nostalgia: You are dreaming of classic themes like CAstle, Space and Pirates? Welcome to my first MOC!
The Martinique - named after the famous pirate island - was a magnificent merchant ship before it fell into the greedy hands of unscrupulous pirates. Therefore, the Martinique today drives under skull flag.
Following the example of the Pirate Series by LEGO[sup]TM[/sup] (1989-1996), this MOC also got a 62-number. The model is built only from Bricks, which had also appeared in the Pirates Series and thus represents a ship of superlatives in the style of the 90s.
This is my first independent project, so please do not be too critical with me. Of course, there are things you could do better, but I have to start somewhere.
Have a lot of fun with building this model!
For feedback or questions please contact: [email protected]
--LeDom (Dominik Nießl; AUSTRIA)
NOTES
Hull:
Please replace those red/dark grey Hulls with the ones in brown/brown from 6285 Blacksea Barracuda. Studio 2.0 won't let me do that.
Compass:
The compass isn't available in Studio 2.0, so I've put Round Plates 2x2 in Pink instead. Please replace them with the compass 70001pb2 (Fleur de Lis Pattern).
The
table in the Captain's cabin
should be all on the tiles of course. Studio 2.0 won't let me do that.
Sails:
please use Sails in 6285-Balcksea-Barracuda format.
Tubes not bent:
please note, that in the instructions Tubes are not bent. Studio 2.0 won't let me do that.
Already have some of the parts? Use the
Build this MOC
page to only show the parts you are missing.
Waiting for Inventory to load
Warning - No Payment Methods
Sorry, it looks like the designer does not have any active payment methods setup yet.
Help Guide - BI File Types