Peterbilt 379 Semi Truck 1:18 in yellow and black (Obsolete)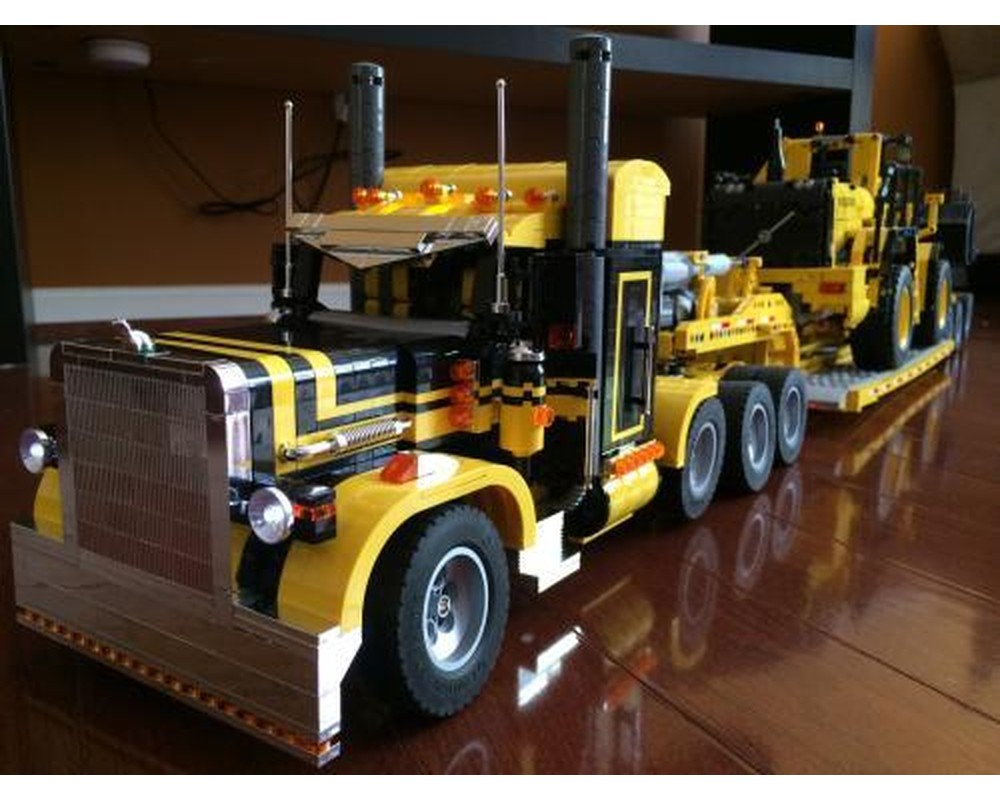 In 2016 this Peterbilt 379 went to the body shop to undergo a complete make over. The updated "version 2" is 2 studs longer and has various cosmetic and mechanical updates.
The updated parts list is here
http://rebrickable.com/mocs/motomatt/peterbilt-379-semi-truck-118-in-yellow-and-black-version-2
The parts list below is for the original version.
A 1:18 scale custom Peterbilt 379 Lego Semi-Truck in yellow and black. Powerfunctions dual XL-motors for drive, Servo Steering, M-motor attached to PF switch for remote controlled headlights, roof lights, tail lights, and trailer light attachment, M-motor for raising and lowering the third axle.
I made this Peterbilt truck yellow and black to go with the lowboy trailer used to carry the 42030 Volvo L350F as well as a modified 8043 excavator. I also wanted a liftable third axle to make it a bit unique from other Peterbilt trucks.
The steering, drive train, remotely liftable third axle, suspension, and most of the cabin is all my own original concoction. The truck has a PF switch driven by an M-motor similar to what is found in Madoca's wing-body truck which is used to control the headlights, roof lights, tail lights, and an electrical connection allowing the trailer's tail-lights to use the same light switch. Originally, the truck also had a 2 speed gear box which was manually operated and accessible from underneath. The gearbox design was very similar to Madoca's SUV Mk II. I've since replaced the gear box with a straight 1:1 drive because, although very zippy in the faster gear, the torque of the two XL-motors resulted in a few too many false neutrals. Elements of the hood, cabin, and sleeper were incorporated from various designs available from BricksOnWheels trucks and Sariel's kenworth Road train.
I originally built this with alot of Chrome pieces. The instructions here replace most of the chrome with either light blue gray or dark blue gray.
Probably the most challenging part of the build is getting all of the PF wires neatly tucked away. The trick is to stuff as much of each cable beneath the hood area and not in the sleeper cabin area, so as to leave more room to tuck in the battery all the way into the sleeper cabin.
Already have some of the parts? Use the
Build this MOC
page to only show the parts you are missing.
Waiting for Inventory to load