Chrysler Building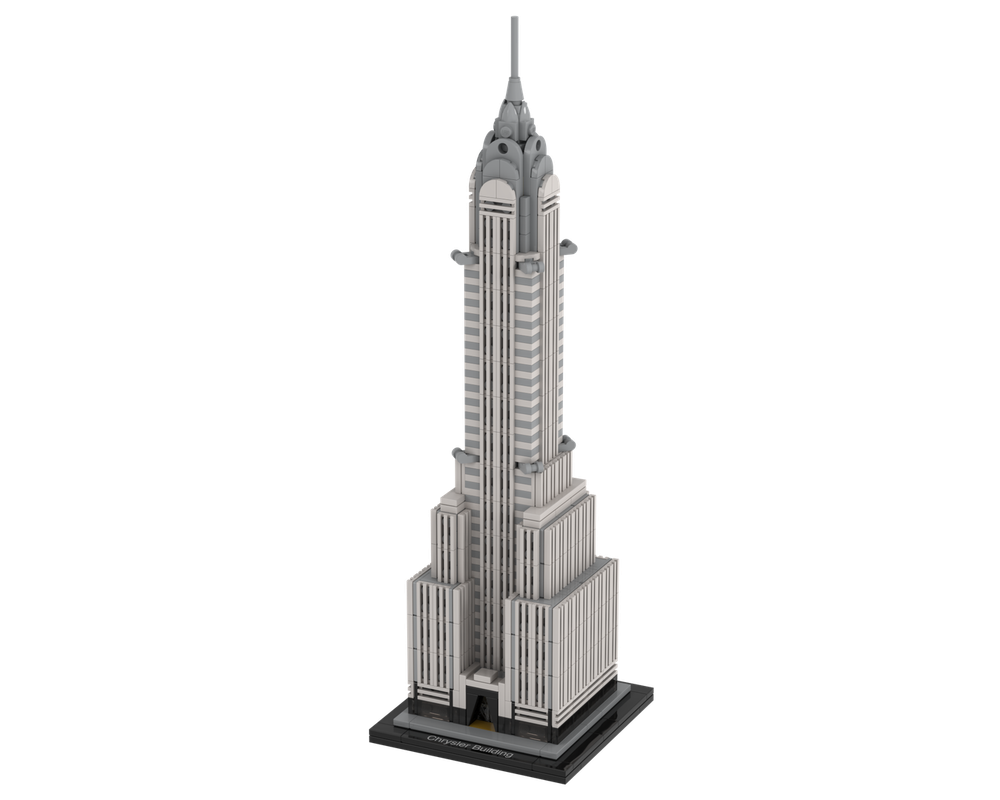 This is a mid-sized recreation of the Chrysler Building from New York City in Lego. 
Despite its lesser fame when compared to the Empire State Building, the Chrysler Building is a prime example of the Art Deco-style and has been my favorite skyscraper for a long time. 
Credit goes to
Harald P.
for inspiring this build with his minimalistic rendition of the Chrysler Building, and also to
Jussi Koskinen
for his awesome Empire State Building that set the scale for my model to go with. 
General Information:
Piece Count: 810 pcs
Size (appx.): 10x10x32cm
Piece Cost: ~$60 (Oct-2019)
Features:
The iconic top marked the starting point for this design and was an interesting challenge at that scale, but in the end I think it turned out great, as it features both a steady slope and the characteristic leveled arches. 
Contrary to the Empire State Building with its rather homogenous facade, the Chrysler Building incorporates different patterns, contrasting colors and even automotive motifs in its facade, which results in a more differentiated look.
In this case the appearance is broken up with the four columns of 1x1 white and light bluish gray plates that run through almost entirely from top to bottom.
There is also a stylized version of the famous gargoyles on the mid- and top-level corners.
On the ground level, the black and transparent-black elements resemble the different shops to be found around the building. 
A highlight that came relatively late in the design is the glass mosaic at the main entrances. When I had the chance to visit New York a few years ago, the entrances with the oversized marble arch and the iluminated glass framework was a sight to remember, and I wanted to capture this in some form in this model as well.
After some tries, i decided to model the different levels in color (the rotary doors, beam and glass) behind a clear glass mosaic that would again emphasize the Art Deco-style of the building. 
Inventory:
Rare and/or expensive pieces have been completely eliminated in this model. All pieces are from the current pallet and can also be ordered directly via Lego's Bricks & Pieces Store (last checked in Oct-2019).
The parts list still calls out which internal elements may be replaced with an arbitrary color. 
Building Instructions:
The Instructions for this model come as a 50-page PDF manual with a Bricklink XML parts list. 
The instructions call out specific colors for all parts, chosen by piece cost and availability, as well as to minimize lot count for an easier part sourcing process.
Graphics for the Nameplate sticker are also included.
I hope you enjoy this model as much as I do.
Additional pictures can be found on my Flickr page.
Please feel free to comment & like, but most importantly: Have fun! :)
Change Log: 
28nov19: - added Nameplate design to the package10nov19:
- Updated Instructions Package with corrected XML Parts List:
If you downloaded the instructions package before 10-nov-2019, please double-check your parts list. It should include 4 pcs of brick# 92593 (Plate 1x4 with two studs), white.
- Updated part inventory on rebrickable MOC page
- Corrected the total brick count in the description to 810 pcs
Already have some of the parts? Use the
Build this MOC
page to only show the parts you are missing.
Waiting for Inventory to load
Please Log In
Sorry, but you need to be logged in to buy these instructions so that you can download them again at any time.
Login
or quickly signup using the form below.
Help Guide - BI File Types