BUWIZZ Motorized chassis for Set 42110 Land Rover Defender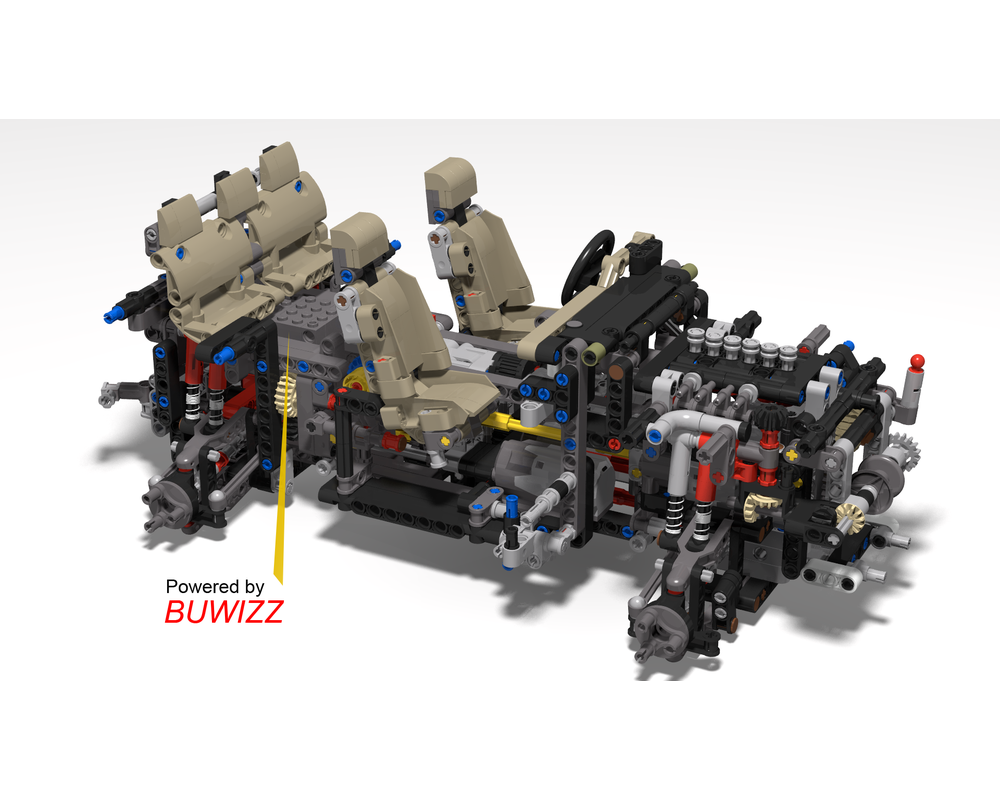 This MOD allows you to replace the original chassis for the Land Rover Defender (set 42110) with a motorized version.
It replaces the instructions associated to bags 1 and 2 of the official LEGO instructions, and is 100% compatible with instructions of bags 3 and 4, at the end there is no visual defference with the original set.
/!\ This MOD is the SBRICK version
. A Buwizz motorized version exists at the following link:
SBRICK Motorized chassis for Set 42110 Land Rover Defender
Note: The part list shown below this descritpion contains
all
the parts required to build the chassis. If you already own the LEGO set 42110, you can find at the following link a custom list that only contains the
additionnal parts
required (Buwizz Controller not listed):
MOC-31127 Additionnal Part to Motorize set 42110
Note 2 : The list of additionnal parts will added to the instructions at next revision.
The motorized part is composed of:
- a propulsion function powered by two PF-L motor
- a motorized 2-speed gearbox with locking of the central differential (high speed / low speed + difflock)
- a steering with a functionnal steering wheel
All this function are powered bu a single Buwizz controller installed under the rear seats, and easily accessible by opening the rear door.
Enjoy !
Update Nov.16th 2019: Instructions have been re-generated to show part 39793 (Connector Beam 1x3x3 "Biscuit") recently added to Bricklink Studio.
Update Dec.22nd 2019: Instructions have been re-generated to correct the assembly of forward differential (previsouly installed in the wrong direction)
Update De.30th 2019 : added note in the description regarding the additionnal parts required.
Already have some of the parts? Use the
Build this MOC
page to only show the parts you are missing.
Waiting for Inventory to load
Please Log In
Sorry, but you need to be logged in to buy these instructions so that you can download them again at any time.
Login
or quickly signup using the form below.
Help Guide - BI File Types