The Big Bang Theory in photo frame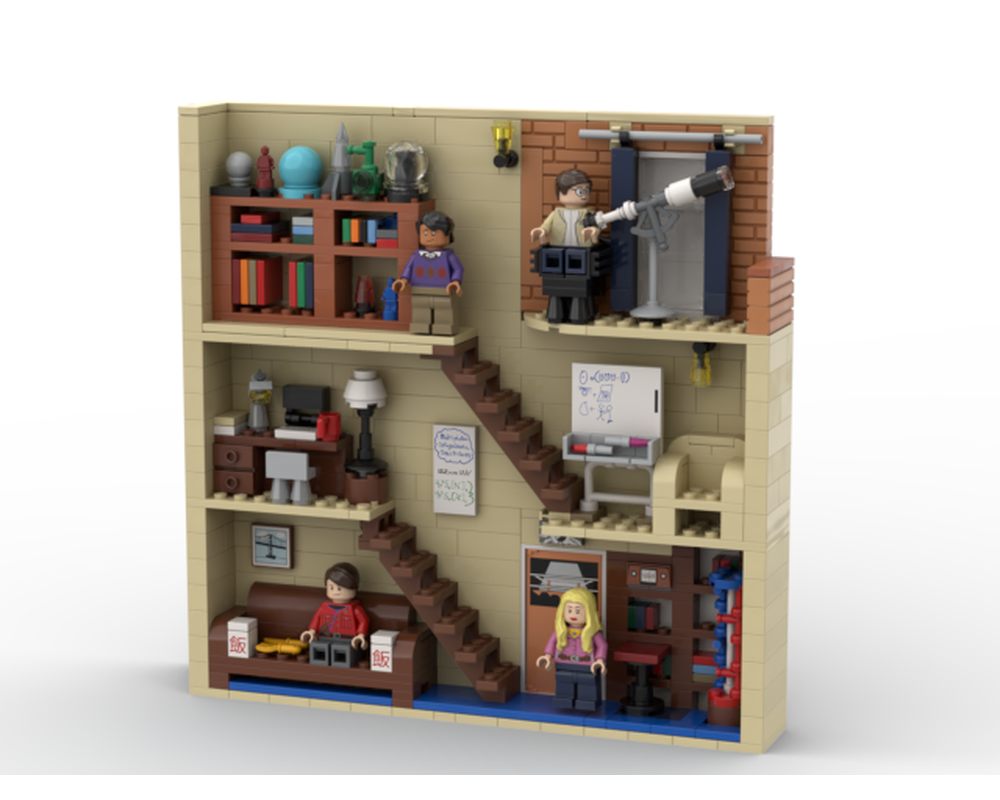 Parameters:
Width: 27 studs / 21.6 cm
Hight: 26.8 studs / 21.4 cm
Depth: 4 studs / 3.2 cm
Pieces: 505 pcs
Hi there!
This Photo Frame MOC is a modification of LEGO official set 21302 THE BIG BANG THEORY.  The main features of the set have been retained in this modified build.
The idea of my LEGO Frame project comes from the situation that displaying an official set at home needs too much space.  When a new set comes, the old set have to go.  Instead of putting the old set back to its box, isn't it a good idea to reduce it into a photo frame and hang it on the wall?  Displaying a photo frame needs minimal space and one can keep it free from dust!
Here are some samples of the instructions:
If you already have the official set of BIG BANG THEORY, you only need the following extra parts.  Most of them are for building the backdrop.
The frame fits perfectly in an IKEA Ribba frame 23cm x 23 cm (9 in x 9 in). 
If you prefer put in into a LEGO frame rather than an IKEA's, you may draw reference to my
Basic Photo Frame MOC
.
If you like the Frame idea, please leave me a comment and let me know which theme you would like for my next work! You are also invited to visit my other frame works and there are many free to download!
LEGO Photo Frame Project by beewiks
Lastly, I wish I could have your support to let me continue my LEGO Frame project so that I can build more and share the instructions for free or for a little premium.  Thank you very much!
I hope you all enjoy this MOC (and the animation below)  :-)
_____________________________________________________________
Below is an example by user montycrabapple who added some awesome lighting! If you'd like to enquire how to do it,
please visit his Instagram
. And of course, don't save your Like to his photo!
_____________________________________________________________
7/1/2020 update:
I've uploaded an animation GIF below for fun! Please enjoy!  (Note: the building sequence in the GIF is computer-generated and not as same as the building instruction.)
20/1/2020 update:
- Added two part lists.  If you own the official set, you may wish to refer to the "Big Bang Theory (Extra parts only).txt" and purchase the parts from BrickLink.com.  Otherwise, if you do not have the set, plesae refer to "Big Bang Theory_part list.txt.
- Added a PDF "Guide to purchase parts in Bricklink"
Already have some of the parts? Use the
Build this MOC
page to only show the parts you are missing.
Waiting for Inventory to load
Please Log In
Sorry, but you need to be logged in to buy these instructions so that you can download them again at any time.
Login
or quickly signup using the form below.
Help Guide - BI File Types