Fallingwater Color Variation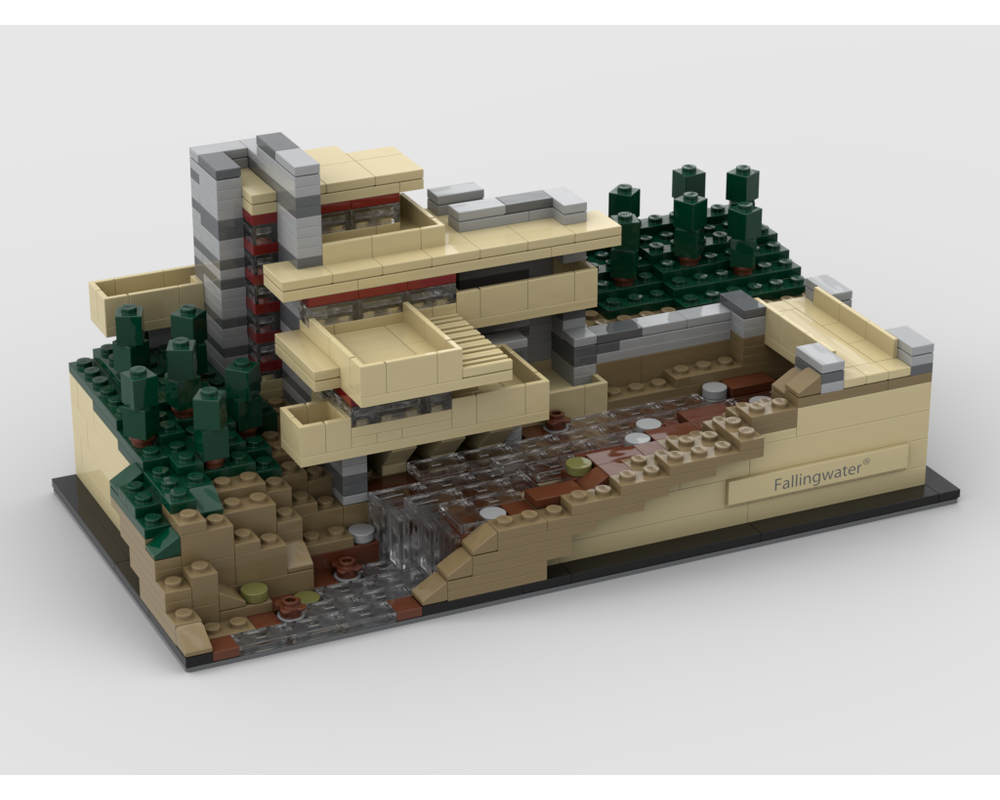 This is a modification of the Architecutre set
21005-1 Fallingwater
. It is heavily based on the existing MOC
Color Modification of 21005 Fallingwater
by
jgw3000
, which I appreciated very much.
I largely kept the colour modifications of his MOC and the slight structural modifications of the bridge and river which are a huge improvement over the original model. While I understand the principles of the rather abstract colouring in Adam Reed Tucker's original design, I personally think it doesn't quite capture the beauty of the contrast between the riverstone framework and the beige concrete structure that the building exhibits. And while Fallingwater is supposed to merge with its surroundings, I feel this is only really appreciated if you still see the difference between the beautiful nature and the building. jgw3000's modification does a wonderful job of mitigating these shortcomings, so I stayed largely true to his MOC.
I made a few changes to his MOC, though. Most noticeably, I changed the base structure back from black to tan, while still keeping the topmost ground layer in dark tan. This on the one hand helps to reuse more of the existing tan bricks from the original set and it also helps to keep the overall tan impression of the original set while still profitting from the colour variations of the MOC. I also found that the strong black base was a bit distracting from the rest of the model and also didn't fuse well with the tan title tile.
I also did a small change to the actual architecture of the building. I added an additional 2-stud window on the right side of the bedroom front on the second floor where the original set had a wall. From various photographs of the real building I find this truer to reality. But it is only a minor modification and you can decide for yourself if it is worth changing Adam Reed Tucker's vision of the building structure. On the other hand I changed the right stone wall on the second floor back from jgw3000's variation to its original design, which is both more accurate to reality as well as provides some needed support for the second floor unit.
In general the whole construction, the used parts and their arrangement, tries to stay as close as possible to the original set, including the big 16x32 baseplate and the big 8x16 brick. It is trying to build a compromise between Adam Reed Tucker's LEGO set and jgw3000's MOC and is oriented towards owners of the original who want to make minimal changes to their set.
Already have some of the parts? Use the
Build this MOC
page to only show the parts you are missing.
Waiting for Inventory to load