4888 Submarine Alpha 01A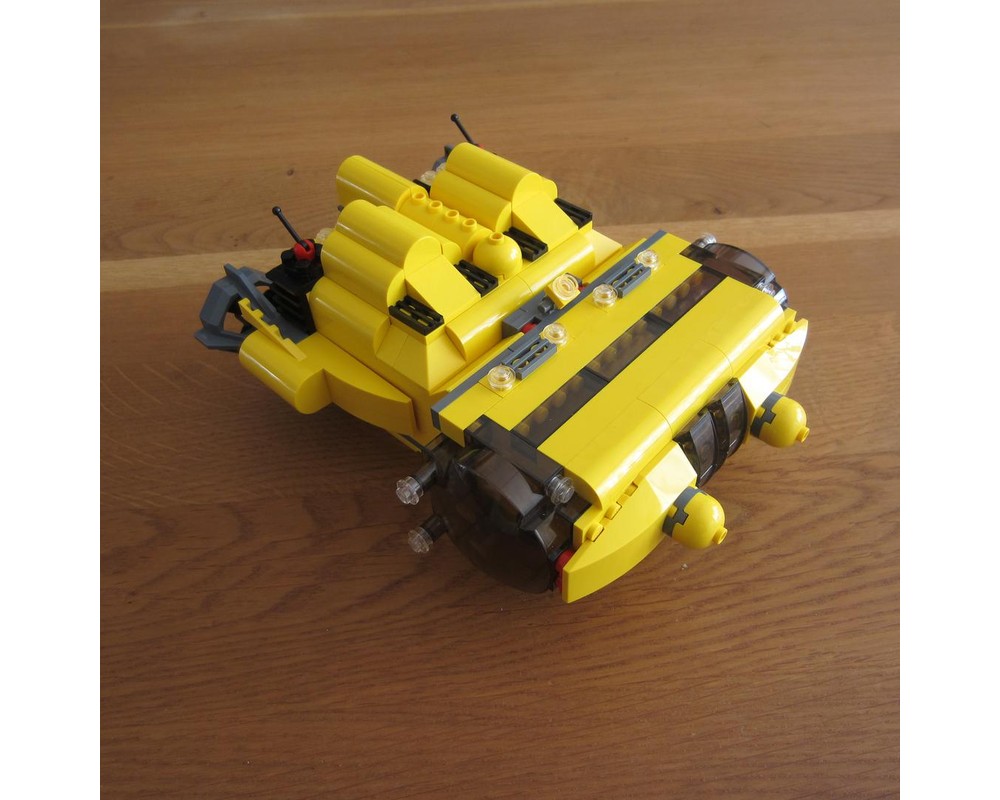 For my first proper original design I wanted to make something big and unusual. The model consists of two sections which are attached to each other. The basic setup and design for the front section came fairly easily. I made it very symmetric so it doesn't matter which side is up or down. I was not sure what kind of attachment would work best so I played a little with some ideas. Based on the way I wanted to attach the two sections the starting point of the back section was clear. I did not know yet how large I wanted to make it. I did know quite early on that I wanted to put two large external propellers on the side so I worked my way to a shape that would allow it. The big engine at the center back was planned from the start as well. Having a number of key components helped me work my way to a solution of how to build things. After I got the basic roof on I realized the structure was not very solid. When I was changing parts it all broke apart too easily. Because of that I started to change several parts, there were plenty left, so the structure would be more solid. When I attached the two parts I noticed the symmetry was a bit off on the propeller section so I used a different sideways connection to put it in a better position.

With the basic submarine done it was time to make it pretty, because that is what makes a good design great. I started with the roof of the back section because that would determine how I would continue elsewhere. I decided to use a multitude of curved bricks to shape an organic pattern of round ridges. I added those to the side propellers as well and this worked out quite well. With so many grill plates included in this set I started to modify the model to add sideways parts so I could include grills. The same plentitude is found on the transparent circular 1x1 parts which function as lights. I added those to a good amount of places as well. After that some more small decorative parts were added where appropriate. To retain a more symmetric feeling to the design I added an extension to the bottom of the back end section which is very similar to the one I used for the Iota 02 model. If it works well, it never hurts to reuse something. It allows for some consistency in the design.

The final model looks really good and I am quite pleased with the result. It has a very smooth outer exterior and plenty of interesting details. It is certainly not a perfect design, but then again this is the first original model that I made from scratch for this set, so I am sure I can do better.
Already have some of the parts? Use the
Build this MOC
page to only show the parts you are missing.
Waiting for Inventory to load