4888 Submarine Sigma 01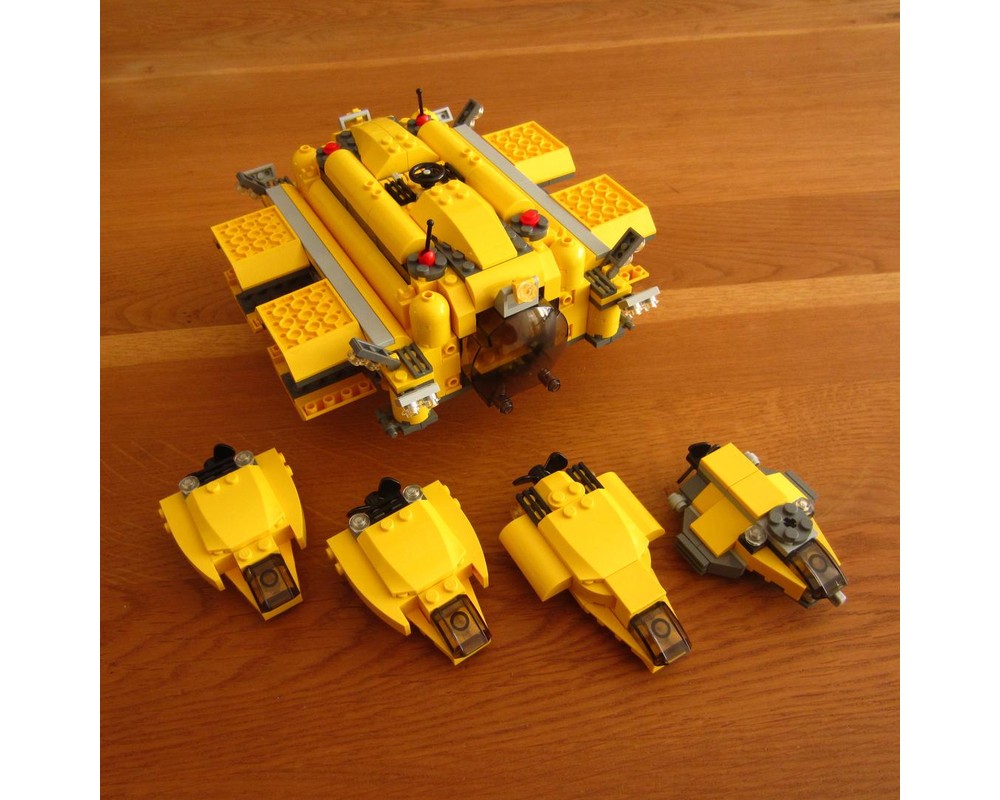 Before I began I already knew I wanted to make something with dockable submersibles, but what was in my head originally turned out very different. The concept of the docking bays was the only thing that remained of the initial idea. I spent quite a bit of time trying some different setups for the large transparent fronts but this lead to nothing. So instead I focused on the docking bays and quickly realized I could only make four if I wanted something above and below. I completed the basic setup, as it is now, fairly quickly. The Lego Digital Designer didn't allow me to connect them to the technic bricks, although it fits easily enough. In previous builds and even some official Lego instruction ideas I've already encountered the LLD unwilling to allow some attachments, as the dimensions are slightly off in particular cases. There are ways to do this setup differently with shortened connector pins, but this set only has one of those and the attachment would be less strong.

Next I went for the central section, which would be something of a docking station or something similar. I was not sure what it would be yet. I started very audacious by laying out the four large plates together. I wanted to attach the docking bays separately so the docking station would work as a stand alone as well. With plenty of technic bricks and connectors available I knew this would not be a problem. I laid out the floor plan and decided how to add the large transparent fronts. From there I built up the walls. When I got to the top and needed to add a roof a problem arose. I had already used up many large plates and I needed something to from the roof. Here I started to get creative. With the inverted roof bricks I could reduce the size of the roof by adding a layer of bricks on top. This would also allow me to create a kind of grid onto which I could put smaller plates. It was quite a puzzle. Using the curved bricks I could add a decent shape and I knew I would need others to finish things off. I had already planned to add small submersibles for the docking bays, but these could be small and I could not waste good parts for the main docking station. The small submersibles were not essential. Adding the hatch in the center allowed me to save another bit of coverage and along the sides I used the semi-circular bricks to be part of the roof, reducing the need for more plates even further. This way I could maintain the overall symmetry quite well. The roof was not perfect, but that would have been quite hard anyway, but it was good enough.

With the central section done I could attach the docking bays on both sides and finish them off by adding circular bricks on the outer parts and add lights. There was not much else what I could do and it fitted well with the central section so I kept it as it was.

I wanted to add four small submersibles for each one of the docking bays. These could be basic although I aimed for them to fit nicely and still look good. The first two were easy. I could make them identical and they were done quickly. The third required a longer plate as its center so I had to make up something to make it longer. This also didn't take much time. The fourth small submersible took much more time. I had used up all the easy parts and while the first rendition looked nice, not much different from what the final version looked like, it was too high and could not fit into the docking bay. Doing it differently proved to be hard. I need some small plates to fill up gaps in the shape and this proved to be difficult to achieve, because I didn't have any left. I did succeed in the end, but it took a lot of time compared to many other builds I worked on for this model.

I thought I was done by completing the four submersibles. Once I had everything in place however I looked at the complete model and was not satisfied. Making it a stationary docking station just didn't look that good. I decided I needed to try and see if I could make it a movable docking station, or rather submersible. I still had plenty of round bricks and exhausts left but I needed to figure out how to attach them to the central section. The solution was found by thinking outside of the box. I found it by just tring some different configurations with the remaining bricks and plates, in the form of a gondola below the central section. Getting it to fit required a creative solution but once it worked and I had the exhausts in place it was exactly how it should. Or rather, almost exactly. I still had enough round bricks and exhausts left to make four instead of two. Adding them as extra made the whole model looks smashing instead of really good.

I am very pleased with this final model. Despite a bit weaker fourth smaller submersible the overall model looks really good. I was able to maintain almost perfect symmetry so you can play it any way you like. With the four submersibles the playability is excellent and the design just looks striking. I hadn't expected to make something this big and good this early on. I will certainly want to rebuild this model later on. It is almost a pity I will be breaking it down to make a different model.
Already have some of the parts? Use the
Build this MOC
page to only show the parts you are missing.
Waiting for Inventory to load