The Flintstones in photo frame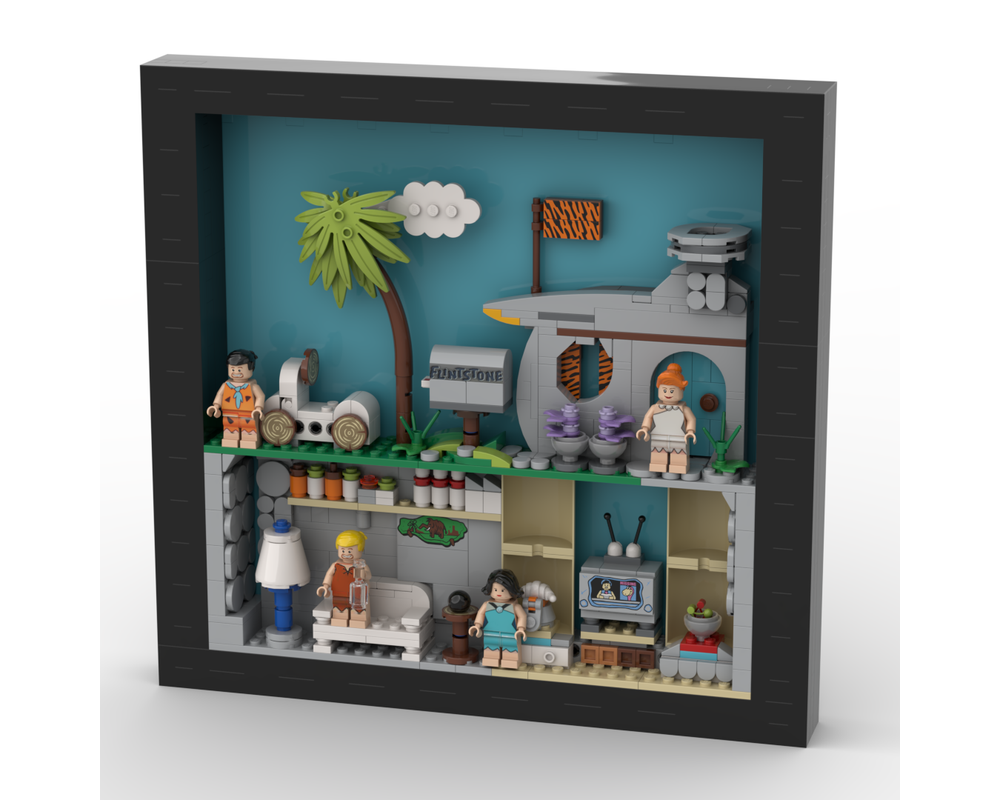 Hi there!
This is the 8th work of my LEGO Frame Project:  The alternatvie build of official set 21316 - The Flintstones!  If you have the set, you don't need any extra part but only an IKEA Ribba 23cm x23cm photo frame to build this MOC!
The idea of my LEGO Frame project comes from the situation that displaying an official set at home needs too much space.  When a new set comes, the old set have to go.  However, instead of putting the old set back to its box, would it be a good idea to reduce it into a photo frame and hang it on wall?  Displaying a photo frame needs minimal space and one can keep it free from dust!
The MOC
Most of the original features are retained with some modifications such as, the vehicle is reduced to a bike; the palm is here just no coconut(?); the mail box, the sofa (shortened), the telephone, the lamp, the tv (you may choose the tranditional style or the plasma style), all are still there but the fireplace is gone I am sorry and the table becomes the cloud (which I like the most however) :)
If you have extra parts in hand or going to buy some parts to improve the stability, I also build a Set B for you.  In which some white and light blue pieces are added to build the sky backdrop. (In Set A there is only a piece of paper as backdrop).  You may see below pictures for the parameters and some samples of the building instructions:
Since I tried to ultilise all bricks in the offcial set as far as possible, so you may find I stacked like 9 1x2 plates together and used some awkward color at the invisible places.  You may achieve better stability and color unification by replacing those smallers parts with larger extra parts at your choice.
In the download, you may find four files:
1) 85-page PDF Building Instructions for Set A
2) 103-page PDF Building Instructions for Set B
3) A part list in txt format for Set B extra parts only (faciliating you to purchase parts at Bricklink.com)
4) A PDF Gudie on purchasing parts at Bricklink.com  (since one needs only 18 extra lots for set B, you may wish to visit Pick-a-brick at LEGO Official site instead.)
If one prefers a frame wholly built by LEGO instead of putting it into an IKEA's, you may wish to draw reference to
this Basic Photo Frame MOC
.
Afterword
If you like the Frame idea, please leave me a comment and let me know which theme you would like for my next work! You are also invited to visit my other frame works where you can find some free-to-downloads:
LEGO Photo Frame Project by beewiks
Lastly, I wish I could have your support to let me continue my LEGO Frame project so that I can build more and share the instructions for free or for a little premium.  Thank you very much!
__________________________________________________
Below are some nice works by other lovers.  Applause to them!
| | |
| --- | --- |
| This one is uploaded by user Mawsonbricks.  He added some tiles on floor making it more like a home. | |
| Another LEGO lover SINTAX has further modified this frame by adding some extra bricks.  To see his work you may visit his instagram here. | |
| This is by user monthcrabapple. Don't save your Like to his Instagram! | |
Below is an animation I made if for fun.  Hope you enjoy it too :)
Already have some of the parts? Use the
Build this MOC
page to only show the parts you are missing.
Waiting for Inventory to load
Please Log In
Sorry, but you need to be logged in to buy these instructions so that you can download them again at any time.
Login
or quickly signup using the form below.
Help Guide - BI File Types