Iron Man Base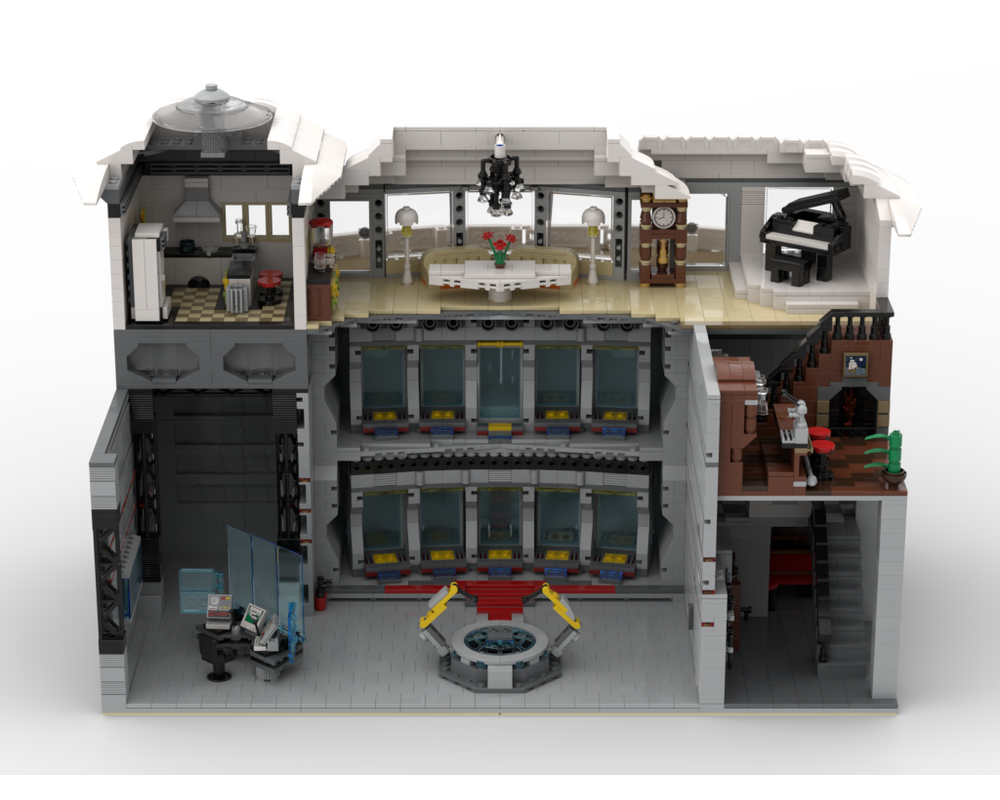 Parameters:
Baseplate: 32 studs x 64 studs
Displaying Length: 45 cm
Displaying Width: 32 cm
Displaying Height: 36.6 cm
Lot used: 495
Part used: 5004
Hi there!
Maybe it is a little bit… um… very late for another Iron Man Hall of Armor, but one with more than 600 pages PDF Building Instructions is still rare in the market imho 😊.
Background
(this part relates to my design process and you may skip it)
I love every Iron Man MOC in which Elvis Lawvey's is my favorite.  He posted many awesome pictures about his MOC in Flickr in 2017.  I tried to reach him for any instruction or digital file for sharing/purchase but to no avail.  Therefore I started to build mine but this took me a lot of time.  Just like most official Iron Man sets, I added three tricks making it playable but also some modular elements allowing it good for display.  There is a dilemma I faced during the building process I want to share. You know what?  I tried to be practical to balance the cost and the details of the set but it is always difficult.  Too many details means the cost of materials will be too high for the fans to actually re-build it.  Too few details will make the set dull and no one interests to build it.  For this MOC, I kept the lot used within 500 and part used around 5000.  Let's see the details of the MOC.
(This building instruction does not contain minifigs and the cars.  They are included for demonstration only.  Both cars (Shelby Daytona Coupe and Audi R8 LMS Ultra) are designed by deconsnowman who shared the ldd files for free (click
here
for his MOCs).)
The MOC
This MOC mixed the ideas of play set and modular building for display.  There are three tricks in this MOC which are now shown by below low-quality animations:
Trick 1: The back of the Hangar for Hulkbuster can be opened so that it can leave the base. (Otherwise how? I wondered.)
Trick 2: There is a secret exit in the Hall for the iron men to go outside. (So that they don't need to break the glass to get out!)
Trick 3: The tool shelf is a revolving door to enter the Hall of Armor. (I know it is not faithful to the film but it is fun!)
Besides the Hall or Armor, I also added some modular elements into this MOC.  You may find a gym room, minibar, piano corner, kitchen, balcony and the main living area.  (Why kitchen because there is one in the official set 76007 - Malibu Mansion!)
I have made two free-for-download building instructions for the minibar and the kitchen because they can be standalone.  If you only like the modular buildings but not Iron Man, you may download them for free [Links for
kitchen
,
minibar
].  You may also preview the standard and quality of the full version if you are interested in that.  Below are some samples showing the major milestones.
In the download, you will find:
1) PDF Building Instructions Part 1 (438 pages) containing steps 1-503;
2) PDF Building Instructions Part 2 (199 pages) containing steps 504-747 (because the combined file will be too large for uploading);
3) Part list in PDF format (18 pages);
4) Part List in txt format (to facilitate you ordering parts in Bricklink.com); and
5) A Guide on ordering parts in Bricklink (in case you are new to that).
If you like this MOC, please leave a comment and share this MOC to your friends who also love Iron Man or modular buildings!  You don't necessary to purchase my work to show your support but sometimes one simple comment and a Like will give me strength to keep it up!  Thank you very much!
You are also invited to Like the works of my LEGO Photo Frame Project.  What is this?
Check it out by yourself
.
PS:
In case some fans may concern about the materials cost,  I have checked Bricklink on March 7, 2020 and it returned around USD$830 for all parts (not including shipping fee which could be huge sometimes depends on where you are).  Please note price in Bricklink may be fluctuated with time.
PPS:
The number of parts used is 5004 if using the method of Bricklink.com.  Rebrickable counts 2 for hinges and turntables while they can be purchased as 1 item in shops.
Already have some of the parts? Use the
Build this MOC
page to only show the parts you are missing.
Waiting for Inventory to load
Please Log In
Sorry, but you need to be logged in to buy these instructions so that you can download them again at any time.
Login
or quickly signup using the form below.
Help Guide - BI File Types