WWII - Boeing B-17 "Flying Fortress" Bomber Plane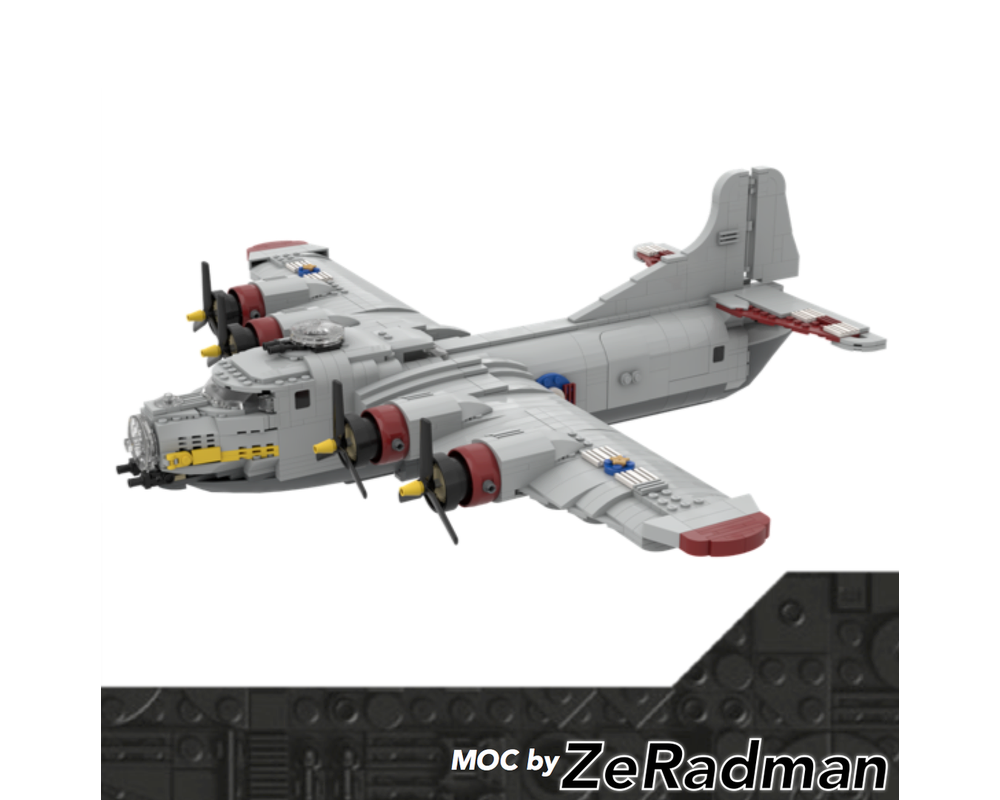 This MOC build is based and inspired by the Boeing B-17 "Flying Fortress" used by the American and Allied Forces in World War II.
WWII Plane (Boeing B-17 Flying Fortress)Version 1 :
https://i.redd.it/mmcs6cnjqxo41.png
WWII - Boeing B-17 "Flying Fortress" Bomber Plane Interior 1
:
Biography:  
On July 28, 1935, a four-engine plane took off from Boeing Field in south Seattle on its first flight. Rolling out of the Boeing hangar, it was simply known as the Model 299. Seattle Times reporter Richard Smith dubbed the new plane, with its many machine-gun mounts, the "Flying Fortress," a name that Boeing quickly adopted and trademarked. The U.S. Army Air Corps designated the plane as the B-17.
WWII - Boeing B-17 "Flying Fortress" Bomber Plane Interior 2 Aerial:
In response to the Army's request for a large, multiengine bomber, the prototype, financed entirely by Boeing, went from design board to flight test in less than 12 months. The B-17 was a low-wing monoplane that combined aerodynamic features of the XB-15 giant bomber, still in the design stage, and the Model 247 transport. The B-17 was the first Boeing military aircraft with a flight deck instead of an open cockpit and was armed with bombs and five .30-caliber machine guns mounted in clear "blisters."
WWII - Boeing B-17 "Flying Fortress" Bomber Plane 1
The first B-17s saw combat in 1941, when the British Royal Air Force took delivery of several B-17s for high-altitude missions. As World War II intensified, the bombers needed additional armament and armor.
WWII - Boeing B-17 "Flying Fortress" Bomber Plane 2
https://i.redd.it/lsyz0h1tqxo41.png
The B-17E, the first mass-produced model of the Flying Fortress, carried nine machine guns and a 4,000-pound bomb load. It was several tons heavier than the prototypes and bristled with armament. It was the first Boeing airplane with the distinctive — and enormous — tail for improved control and stability during high-altitude bombing. Each version was more heavily armed. 
In the Pacific, the planes earned a deadly reputation with the Japanese, who dubbed them "four-engine fighters." The Fortresses were also legendary for their ability to stay in the air after taking brutal poundings. 
Seventy-five years after the B-17's first flight, an 88 year-old veteran sent The Boeing Company a letter. After explaining how he returned to England after a bombing raid over Germany with 179 flak holes and only two out of the four engines, he wrote: "I'm glad to be alive. Thank you for making such a good airplane."
WWII - Boeing B-17 "Flying Fortress" Bomber Plane 3
https://i.redd.it/6xj0hs5vqxo41.png
Gen. Carl Spaatz, the American air commander in Europe, said, "Without the B-17 we may have lost the war." 
Boeing Plant 2 built a total of 6,981 B-17s in various models, and another 5,745 were built under a nationwide collaborative effort by Douglas and Lockheed (Vega). Only a few B-17s survive today, featured at museums and air shows; most were scrapped at the end of the war. 
Excerpt from <a href="
https://www.boeing.com&quot
; rel="noreferrer nofollow">
www.boeing.com</a&gt
;
Already have some of the parts? Use the
Build this MOC
page to only show the parts you are missing.
Waiting for Inventory to load
Please Log In
Sorry, but you need to be logged in to buy these instructions so that you can download them again at any time.
Login
or quickly signup using the form below.
Use LEGO Digital Designer to open these files and generate step by step building instructions.