The Treasury of Petra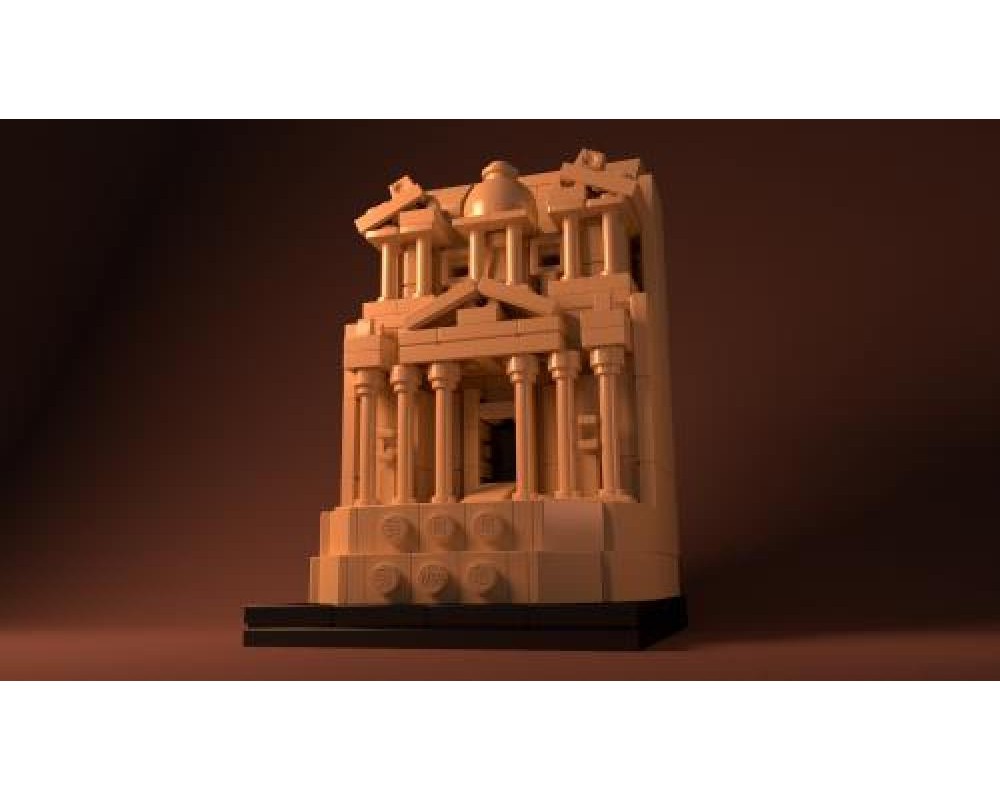 Al Khazneh, the Treasury, is one of the most recognizable buildings you can find in the Jordan city of Petra. It's a beautiful piece of two millennia old elegance amidst the roughness of the cliffs. Together with numerous other less well known but equally intriguing builds it makes Petra one of the seven modern wonders of the world. It's a true sight to behold, even on Street view, and I am far from the only one who longs to see this with my own eyes one day.
Such a marvel is definitely a tough act to follow with bricks, especially when you're restricted to a 8x8 footprint. And especially when you're limited to only use classic bricks, so no Technic or minifig related stuff. The contest on
Rebrick
was definitely quite the challenge, but I enjoyed it a lot.
Ever since building the Brandenburger Gate architecture set, I've been wanting to do something with only simple bricks, to focus on shape rather than anecdotic details. This build definitely was a learning experience for me, teaching me that classic bricks help to give the creation a coherent feel that's perfect for such a monumental building. I doubt it would have turned out better it I'd used a Technic gear for detailing on the dome for instance. I recommend doing such a build to everyone to learn to appreciate what a wonderful system just the classic LEGO bricks already are.
So thanks Rebrick for hosting the contest and inspiring me. And thanks to all of you for taking a look at this creation. I hope you enjoy looking at the columns, fronton, monumental gateway and intriguing eroded statues. You'll find that the biggest thing that is missing on this creation is the Holy Grail.
____________
There are a couple of bricks of which the color doesn't matter. I made the parts list uniform to keep it compact, but check out the 3D file to see which parts can be any color. A couple of them have been designated in red already in the file.
Already have some of the parts? Use the
Build this MOC
page to only show the parts you are missing.
Waiting for Inventory to load