Ultimately Playable Porsche 911 GT3 RS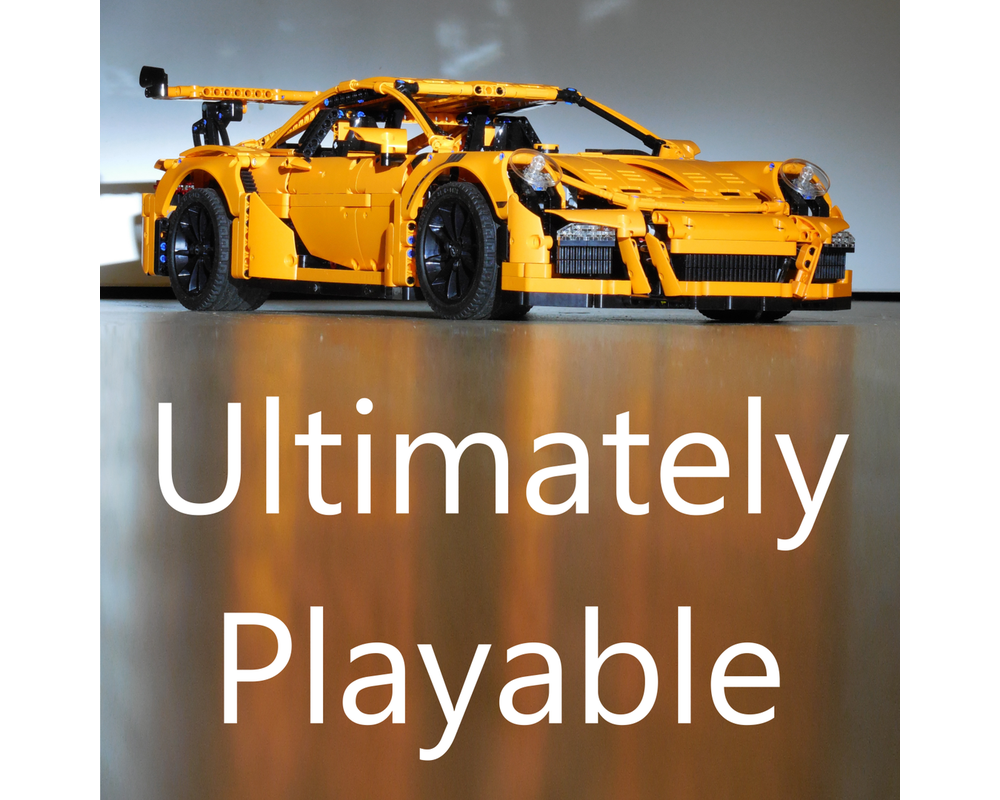 Ultimately Playable Porsche 911 GT3 RS
This project is a further development of the
unofficial errata for the Porsche 911 GT3 RS
. This means this MOD includes all fixes mentioned in the errata, however some fixes have been implemented differently or have become obsolete due to more rigorous changes. This project aims for playability rather than authenticity. So McPherson strut suspension and rear wheel steering? No. But HoG steering and HoG shifting? Yes.
Here
you can find the images.
Implemented features
- 4th to 1st gear block
-
Hand of God steering
-
Hand of God shifting
-
Sturdy without body
- Geared up engine
-
Dash gear indicator
-
Ackermann steering
-
Stabilized gear rack
-
Secured wishbones
-
Improved clearance
-
Improved shifters
(
video link
)
- Removable body
Building directions (link)
I do not plan for full-blown instructions. For now I can only offer
this Eurobricks thread
with reports on all MODs and a
LXF-file
showing the differences in terms of groups: In each group there is a subgroup representing the old structure and the new structure. Both new structures and old structures are embedded in a version of the chassis. By clicking on a group or subgroup in the group tab you select all parts in that group. Now when you invert the selection and then delete the selection you see a cutaway of the group, which allows you to inspect the group thoroughly. Use Ctrl-Z to undo the delete after inspection. This way you can inspect the differences group by group. I also have a
parts list
available with the extra parts needed for this version.
When you build this you should take into account the following pointers:
- You need to make sure each individual axle that is part of the shift or drive train runs smoothly, with the least of friction.
- Make sure gears don't rub against liftarms, especially the red clutch gears need some play.
- When you replace the knob gears inside the PDK-unit with bevel gears, make sure the axles keep their original orientation. A knob gear mesh implies a 45 degree orientation difference.
- Note that the
3L pins with 1L axle
 inside the PDK-unit need to be inserted half a stud deeper than what the LXF-file shows. LDD does not allow a full insertion.
- Also check the changes to Box 2; for instance the way the vertically placed black panel in front of the rear suspension module has been secured to adequately lock up the 20t bevel gears used for the rear HoGs.
- Also check the changes to Box 3 and 4, which are needed to make the body removable.
Already have some of the parts? Use the
Build this MOC
page to only show the parts you are missing.
Waiting for Inventory to load