Machu Picchu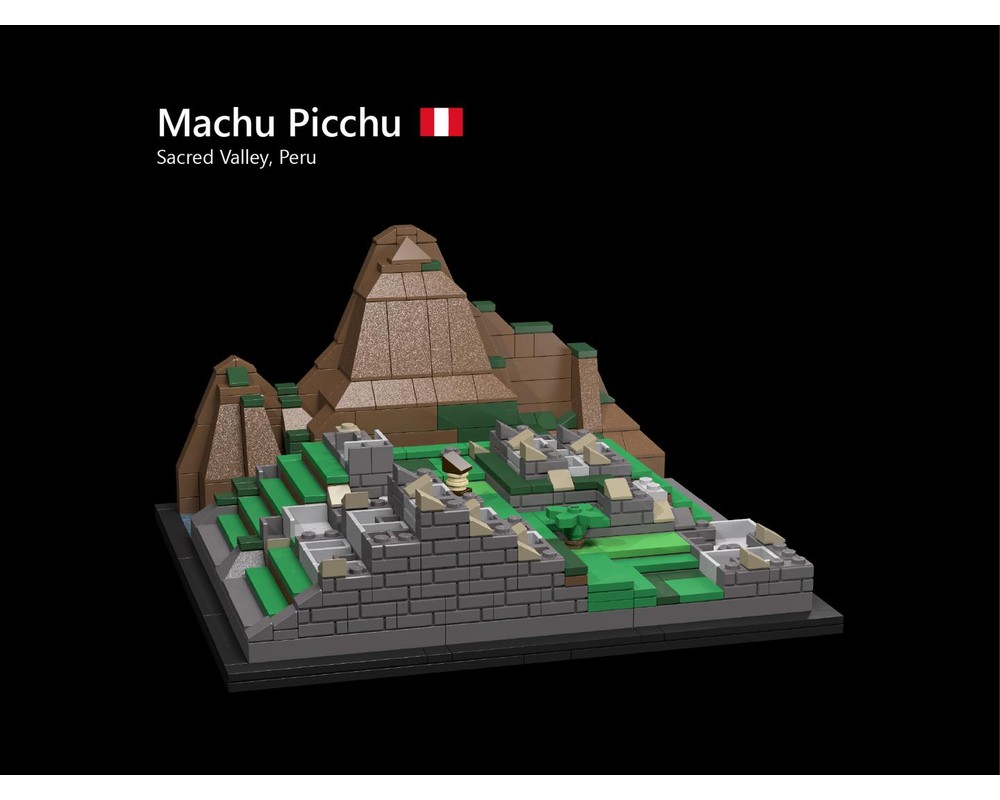 History:
The legendary Peruvian citadel of Machu Picchu is the most familiar icon of the Inca civilization. Located in the Sacred Valley, which is 80 kilometers (50 miles) northwest of Cuzco, it was constructed around 1450 at the height of the Inca empire. Most archaeologists believe that Machu Picchu served as an estate for the Inca Emperor Pachacutec (1438-1472) and was abandoned just over 100 years later in 1572 because of the Spanish Conquest. Machu Picchu was rediscovered in 1911 by American historian and explorer Hiram Bingham. In 1983, UNESCO designated Machu Picchu as a World Heritage Site.
Model Features:
This micro scale model of Machu Picchu showcases several key architecture features of the iconic building:
Model Info:
The model has 511 pieces and measures 20.8 x 19.2 x 11.5 centimeters, (8.2 x 7.6 x 4.5 inches).
Motivation:
As a fan of the LEGO Architecture series, I was surprised there were no official sets from South America. UNESCO described Machu Picchu as "an absolute masterpiece of architecture and a unique testimony to the Inca civilization", making Machu Picchu the perfect landmark to build, learn, and explore.
I have been lucky enough to visit Machu Picchu on several occasions and my goal was to capture the beauty and splendor of this Wonder of the World.
I hope you enjoyed my interpretation of this famous landmark. You can learn more about this MOC on my LEGO Ideas site by clicking on the 'More Details' link. Thank you for you comments and support!
Already have some of the parts? Use the
Build this MOC
page to only show the parts you are missing.
Waiting for Inventory to load