Imperial Hovertank TX-225 GAVr Occupier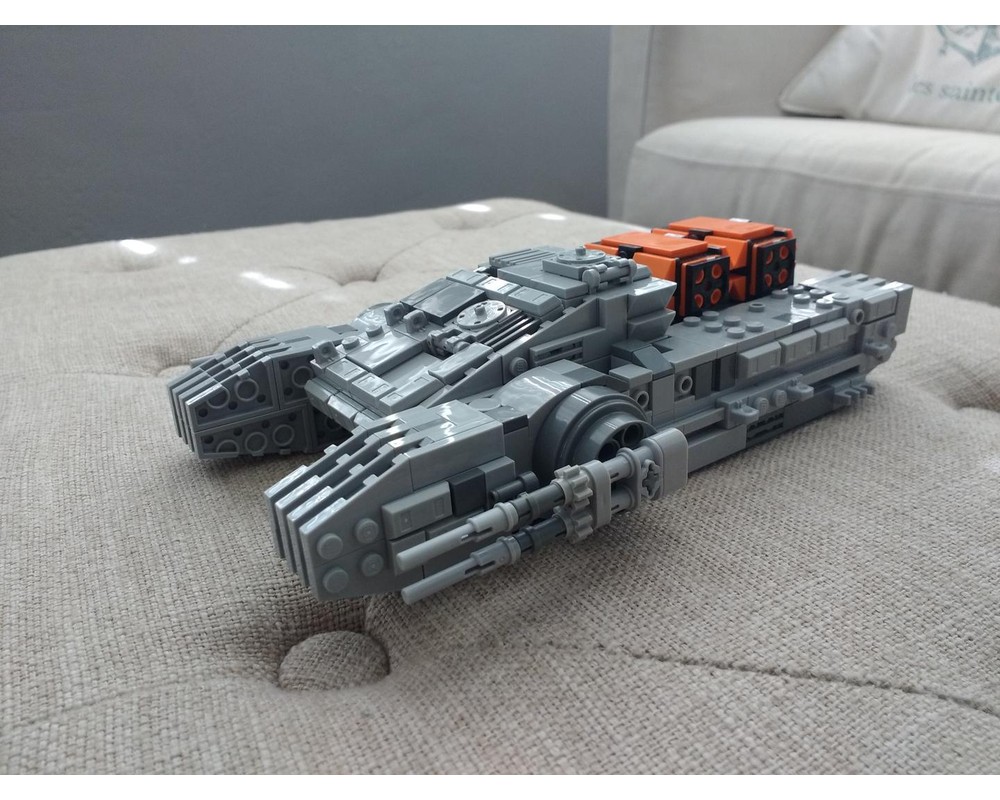 I saw the incredible tracked version of the Imperial Hovertank created by DarthPineapple, and got really inspired by a design that wolf.leews-無 was working on but abandoned. Having said all that, I made the canon hovertank version of the TX-225 GAVr Occupier Tank.

The tank is roughly 627 pieces (not counting the crates or ramps), and is incredibly study. There is room for 3 figures to sit inside of the tank, with a targeting visor for the gunner, and a console and steering yoke for the driver. The Rogue One visual guide gives a nice glimpse inside the tank that I used for reference, and DarthPineapple's use of the bucket handle for a yoke was genius. On the back wall of the cabin are racks for 2 blasters, as well as a console to control the commander's roof hatch. All hatches can be opened for the minifigs to see out of, and the aforementioned console doubles as a seat for the commander to be displayed.

The twin Dymek laser batteries on the sides pivot up and down, and are independent. The whole tank is suspended above the ground at the appropriate scale for minifigures. On the rear deck are spaces for two Kyber Crystal Crates, and the deck can be removed easily to view the detailed engine compartment. Lastly, ramps can be attached to the vehicle's rear to facilitate easy crate loading for the ground crews. The crates themselves can be opened to access two Kyber tubes per crate.

I hope you all like it, it was a ton of fun to design and I put a lot of time into making sure it is study. I am confident that this would withstand play from a child, while looking good enough for a collector. I have XMLs for the crate, tank, and also a third one that takes into account the official set, if you own it. It will show you the remaining parts you need if you do own that set.
Already have some of the parts? Use the
Build this MOC
page to only show the parts you are missing.
Waiting for Inventory to load
Building Instructions For Sale
This is a Premium MOC, and the instructions to build it are being sold by the designer (hattedsandwich) for $5.00
You will receive building instructions of type PDF - Photo Sequence from the designer once you have organised payment with them.
Help Guide - BI File Types