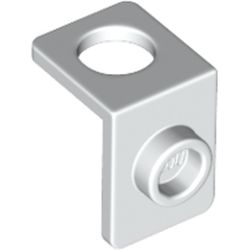 Element
LDraw
Photo

There are 2 version of Neckwear Bracket [One Stud].

The main difference is that the vertical side. 42446 is 3 LDU, 28974 is 4 LDU. 
C in the image is a 36841 to comparison.


Thanks to
NewElementary.com
for the info and comparison image.
Available Colors
Toggle Available Colors
Click on a colored part below to see the Sets and MOCs that use part 28974 Neckwear Bracket [One Stud] - Reinforced in that color. You can find an overview of all LEGO Colors here.
If a color is missing, it probably needs to be added to a Set Inventory.