This Part is disabled and cannot be used.
Element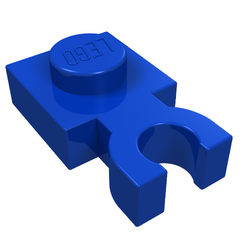 LDraw
Photo
Note for LDD users:
LDD has two versions of part "Plate Special 1 x 1 with Clip Vertical" ("Plate 1x1 w. Holder" in LDD), but their IDs inside the program do not match the IDs used everywhere else.
Currently LDD part 60897 is being imported to Rebrickable entry 60897 (Thick Open O Clip). However, judging by its appearance in LDD, it should be changed to Rebrickable entry 4085b (Thin U Clip). You have to do it manually.