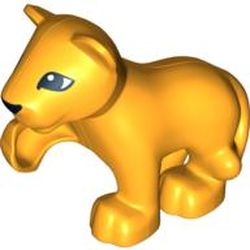 Element
LDraw
Photo
Design IDs 12046 - 63062 - 89193 have been normalised to this part.   The image for Element 4281470 has been used for 54528.
Available Colors
Toggle Available Colors
Click on a colored part below to see the Sets and MOCs that use part 54528pr0001 Duplo Animal Lion Cub with Raised Paw and Black Nose and Eyes Print in that color. You can find an overview of all LEGO Colors here.
If a color is missing, it probably needs to be added to a Set Inventory.