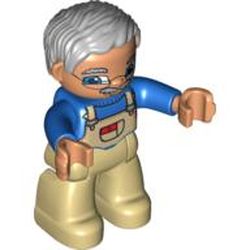 Element
LDraw
Photo
The Element ID picture incorrectly shows the Bib in Tan when it should be White.
Available Colors
Toggle Available Colors
Click on a colored part below to see the Sets and MOCs that use part 75115pr0019 Duplo Figure with Parted Wavy Hair Gray, with Tan Legs, Blue Top with White Overall Bib in that color. You can find an overview of all LEGO Colors here.
If a color is missing, it probably needs to be added to a Set Inventory.